22 March 2016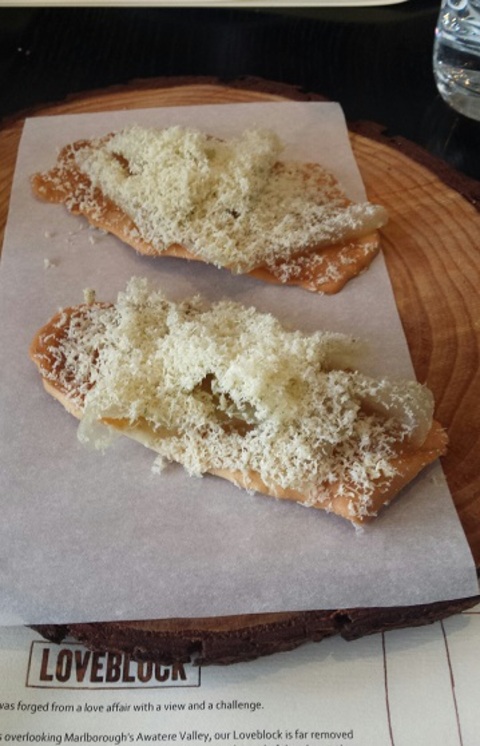 There it was. A thin crunchy crisp rice cracker, spread with a soft puree of the sweetest apple I had ever tasted and topped with a fine mist like cloud of grated cheese. "This is totally mental!" I exclaimed.
When food is this good, with so much flavour, texture and taste it almost becomes a mental rather than a physical sensation. But then almost all the food at Meredith's is like that. There is so much thought, care and innovation in every bite served in this eponymous restaurant headed up by one of our most talented and now most revered chefs, Michael Meredith.
That cracker was the finale at a very exclusive occasion at Meredith's where a tasting of five special dessert style wines was served, mid-afternoon, to just five wine writers, hosted by Erica and Kim Crawford. The pair have poured their hearts, souls, and a fair amount of hard slog into their new brand, Loveblock, making organic wines in the Awatere Valley, Marlborough on a very challenging specially selected site. So it was fitting that they had singled out super-talented-chef Michael Meredith to come up with five desserts to showcase some of their stunning sweet wines in the best possible light. And after five dessert wines and five of Meredith's desserts I floated away and even found room for a light dinner.
That experience was so good that as I left the restaurant I made a booking to return a week later for the degustation menu that is served. Diners at Meredith's are offered a five or eight course tasting menu on weeknights, and on Saturdays, in celebration of the weekend, the pace steps up to nine courses for everyone. When booking the question is always posed about likes, allergies and preferences to ensure that everyone gets to eat food that will agree with them. Vegans and vegetarians are welcomed and a menu is always designed around the whims and fancies of the customer.
Suffice to say that when you go to Meredith's it is certain that you will be entering into a true pact of trust. You essentially, having established a few boundaries, put your appetite in the hands of the chefs in the kitchen and experience a series of small courses that are designed to please, to showcase seasonal food, and occasionally to challenge you in a way you might not have thought about food before.
Each course is designed to flow on from the previous one. You will start with things that are fishy and light, or maybe some wonderful vegetables that have been carefully prepared. You will move on through a several courses that might include a little cured beef, a robust short rib, a serving of red deer or lamb, and it is always garnished and presented with amazing complementary flavours so that it not only tastes superb, but is as appealing to the eye as it is to the taste-buds. And there will always be a light pre-dessert and another, probably focussed on seasonal fruit in the summer months, or heading into the chocolately, caramelly spheres when it's colder.
Our pre-Christmas dinner met all our expectations. Michael Meredith has a strong connection to the Pacific, and he's is at the top of his game, in my opinion, when he works with fresh island produce. I once saw this guy do an hour and a half on stage showing Ways with Coconut. It was a mind blowing experience. So the first dish kick-started a meal that delivered all that was promised. Like every dish on his menus, the written description doesn't even touch the reality of the plate that is put down on the table. 'Taro, coconut, crab & curry' was a sophisticated exhibition of everything I love about the Pacific, melding those wonderful island flavours in startlingly simple style.
As we ate our way through the eight courses, we remarked how much of the food was completely fresh and some was uncooked — fantastic ingredients chosen with care so that they could speak for themselves. There had been a lot of diligent preparation and planning behind the scenes.
Everything about this restaurant is designed for a seamless experience. The décor is low key: dark wood panelling, colourful but restrained art to contrast with lovely potted plants that hang to divide the room, sparkling glassware and cutlery and exemplary informed service.
The wine list only offers the very best wines; New Zealand icons, interesting French wines and all chosen to complement the food. Diners can choose to have each of their courses matched for a very interesting experience, or wine can be ordered by the bottle. Either way wine needs are well cared for, and there's plenty of choices that are well priced. Meredith's dining is a masterly experience not to be missed.
But wait. There's more. A review would not be complete without a nod to the chef. If there is another chef in our country with a bigger heart and more socially conscious attitude, I have yet to find him or her. Michael Meredith started offering a four course Dine by Donation night on Tuesday evenings. The idea is to go there, have four courses of experimental dishes that are being developed for the regular menu and then instead of being presented with a bill, diners make a donation to a charity of Meredith's choice, according to their own instinct. Over the past year or two thousands have been donated to various worthy charities. Note that on these nights wine is not included in this deal.
And there's even more. Last year Meredith lent his name and a great deal of his time to a start-up initiative to provide lunches for needy school children in Auckland. Eat My Lunch has been widely recognised and has even won awards for the efforts to make lunches with the money given by more privileged people. The idea is you buy lunch for yourself and the others in your office, and for each lunch ordered, a lunch is made, mostly by volunteers to be delivered to kids who otherwise would not get to eat a healthy tasty lunch. The kids are happy and it is a warm and generous effort by all concerned.
Merediths, 365 Dominion Road, Mt Eden. Phone 09-623 3140 Open: Lunch Friday only 4 courses by reservation. Dinner Tuesdays for Dine by Donation, Wed to Fri for 5 courses $80 and 8 courses $120, and Saturdays 9 courses $140.
Print • ∞ Permalink • Comments