9 May 2015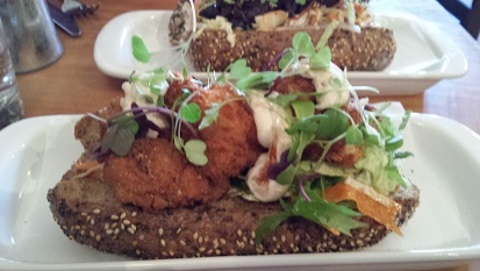 Auckland's restaurant scene gets more eclectic every year. We've enjoyed a dream run of new places opening; mega-budgets have fuelled some of the most glitzy and expensive fit-outs we have ever clamped eyes on, celebrity clever chefs have danced on our tastebuds, we're eating out more than ever and spending lots on satisfying our hungry appetites.
So it was a relief to happen upon a total little gem that answers to none of the above. At number 4 Upper Queen St, no further than you could pitch a wholemeal bread roll from the intersection of K Rd, Queen St and Upper Queen St, there's an almost hole-in-the-wall restaurant, Wooden Board Kitchen. It is the domain of Anto Riswantono, one of the shyest, yet honest and endearing chefs I have ever met. He has run the place with his wife for more than two years and it is dismaying to me that I had not heard of it until I spied him on a segment of Seven Sharp. (More of that later.)
Anto was born in Indonesia and arrived in New Zealand with his family when he was eleven years old. His family have moved on to Australia, but luckily for us he is firmly committed to the Auckland scene. He opened his own gig after supervising the kitchens for a café group that have sites around the city.
His aim is to provide really good food, cooked home-style. So this is the place to head to when you want a decent honest meal, do not want to be bothered by trying to work out what's on your plate or, wonder just who is that show-off over there making all that noise? The restaurant reeks of simplicity. Twinkly little fairy lights guide you down into this Aladdin's cave and you will immediately feel comfortable and unthreatened by the tiled floor, wooden tables, cushions on the chairs and cutlery placed graciously in a tin so you can set your own place.
Anto was given an old cookbook by a family member. She'd collected her favourite recipes over the years and written them up aided by an old typewriter before pasting the pages together. The aim was for him to utilise these recipes in his restaurant. He has put them to very good use; pinning them on the wall for all to share in a stunningly original display, and I'd be surprised if diners couldn't recognise some of their own family favourites there. Decorating the opposing wall is a totally random collection of framed pictures, photos and paintings that make a delightful display to ponder on as you sit and eat.
Over the top of the kitchen pass a blackboard reveals specials of the day and other information. That's where we learned about the fish of the day; a gleaming piece of fresh terakihi, cooked until the skin was just crisp and garnished with a generous pile of seasonal vegetables including red onion, corn, leafy greens and those amazing Curious Cropper tomatoes that are popping up in every kitchen that cares. Simple and deliciously tasty. From the menu there's a choice of entrees that range from the very popular beetroot tart that's been there since day one, an assortment of "sea creatures" lightly dusted and fried, pan seared scallops that I loved with cauliflower puree and crunchy little bits of steamed cauli, buttermilk free-range chicken tenders with aioli and lemon, to another vegetarian option, the hand-made ravioli that's simply tossed in brown butter, and filled with pine nuts and parmesan.
Main courses are as afore mentioned, just the sort of food you would expect in the kitchen of a very good home cook. Lovely braised pork fell apart and was paired with freshly made kumara gnocchi and fennel and savoy cabbage. There's half a free range chicken roasted with lemon and thyme on garlic mash with pan gravy. A Waikato lamb shoulder is served on cauliflower puree with roasted vegetables and capsicum relish, while the Angus skirt steak comes with garlic and herb roasted spuds and vegetables and chimmichuri. And hello! Here's meatball spaghetti made with Angus beef and served with parmesan and pesto, so take the kids but take them early, please! Thoughtful vegetarian options included a rotolo made with free range eggs and stuffed with pumpkin, aubergine and spinach.
Does this sound like comfort food from home? It is indeed, and it will not break the bank either. Prices of entrees hover around the $12-$14 mark and mains are from $26 for that chicken and then spiral down to $22. Wonderful value for money.
The puddings are also old favourites; apple crumble topped with a muesli like crust and ice cream, sticky date pudding, banana fritter, warm chocolate lava pudding and a lemon curd vol au vent. If you want really fine wine, take your own but on the rather restricted wine list we found a couple of lovely glasses, including a citrusy light Spy Valley chardonnay.
I have popped in for lunch too which is offered Wednesday to Friday from noon to 3pm. On that blackboard menu, the choices are a beefy burger, a 'hot dog' and several stunning ficelle sandwiches stuffed with fresh vegetables and beautifully cooked meat for $13. They may be the best sandwiches in town and fully deserve the statement on the lunch menu: "Because You Deserve a Better Lunch."
This is a lovely little humble restaurant tucked away that's worth going to when you are not seeking bright lights and action. I have such admiration for this chef, but at the risk of incurring his wrath, I need to say that Anto has such a warm heart he cooks one night a week for the homeless, delivering meals directly to them in the streets and using ingredients that are all voluntarily donated, and assembling a team of people to help who arrive by word of mouth. Go to his Facebook page "Cooks for the People" to learn far more than I should be saying. You may even be moved to help!
Wooden Board Kitchen, 4 Upper Queen Street, Auckland City, Phone 09 309 2775 www.woodenboardkitchen.co.nz
Open: Dinner Mon to Sat from 5.30pm, Lunch Wed to Fri 12pm to 3pm.