6 October 2015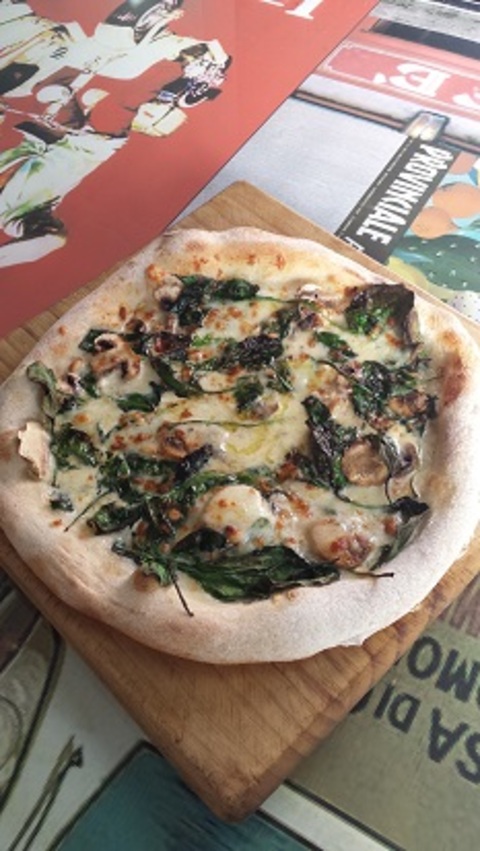 That pizza at Farina! A puffy yet thin yeasty crust topped with baby white mushrooms, great gobs of meltingly creamy fresh mozzarella, baby spinach, roasted pinenuts, cream, parmesan and truffle oil, all assembled as you watch, whipped into the oven for 3 or 4 minutes and whisked to your table. A lovely soft, aromatic feast to sink your teeth into with not a knife and fork in sight. It doesn't get any better.
When the young engineer-trained-turned-chef Sergio Maglione arrived in New Zealand ago from Naples to work with his uncle he would not have even dared to dream he'd return to his homeland 20 years later to compete at the World Pizza championship in Parma, Italy. Better still, he was placed in the Top 20 in the world in April with his version of the pizza Boscaiola mentioned above. And that prize winner is on the menu at his bustling little airy casual ristorante, Farina, in the heart of Ponsonby.
Maglione first worked for that uncle, Antonio Crisci, at various sites around the city including Non Solo Pizza, Toto' and others before branching out on his own to run Toto' in Nelson St. Then, with business partner, Mike Ross, he opened Farina a year ago, taking over a place on the corner of Summer St that had seen several incarnations. He'd wanted to call it Toto' Modern Pizza, but as he put the place together his vision widened and he developed a full Italian menu to appeal to anyone and everyone who loves the simplicity of the freshest and best ingredients cooked or assembled to order.
The atmosphere is fitting with a modern Italian feel that offers traditionally influenced Italian food. There's the clean look of white tiled walls, a long bar that runs the length of the front room and marble table tops with high stools opposite. At the back three long communal tables and red velvet banquettes make for friendly eating and cosying up to other diners. Don't fuss about that as it is a good thing when you can see what others order and follow suit as they feast and devour with delight.
Farina is the Italian word for flour, and much of the menu is based on flour based dishes; light as air fresh pasta, crisp bread from the oven, ravioli, gnocchi and lovely dessert cakes like delizia al limone (a limoncello custard cake) and sfogliatella Napoletana (flaky pastry filed with An Italian cheesecake stuffing.) And of course those pizzas. (More on those later.)
The gluten-free brigade need not despair. Amongst the antipasti, scondi and primi sections, which all good Italian menus follow, there are plenty of lovely options to indulge everyone who has the misfortune of avoiding flour.
The thing about Maglione's food is it is all cooked from scratch with absolute passion. He sources the absolute best ingredients he can and works with them respectfully and carefully. The cured Italian meats and cheeses are the best around – Maglione turned up with a selection of rosy meat at our table and spent time explaining how important the cutting of salumi is. No hacking or rough sawing around here. Even better some wonderful bread, freshly baked in the restaurant kitchen that day, to accompany the meats and homemade pickles.
If you choose to drop by for a glass or two of fruity wine or an aperitvo, Farina has a terrific little Italian wine list with scant regard for Kiwi wines, amnd the snack menu (sfizi) harbours all sorts of delights like octopus, pungent with chilli and garlic, salty confit sardines with toasted bread, crunchy crocchette, and even a Napoletan style sashimi - squeaky fresh raw fish with garlic, chilli and mint and a 7YO balsamic that will keep the wolf from the door while you sip and relax.
I have no idea just how the kitchen does it but they have mastered the art of a very, extensive menu without missing a beat. My heart usually sinks when I am handed a menu with so many choices, especially with more than six or seven entrees and mains, as I have always thought there is bound to be a few dud dishes lurking in such a vast operation, but not here. The antipasta, all prepared daily, the secondi and primi dishes and the sides and desserts have all been exceptionally tasty and deliciously cooked with real Italian flair.
The pasta selection is fabulous and the duck tortelloni which is a rich braise of duck, mushroom, porcini and truffle oil is to be highly recommended. Also fabulous are a couple of vegetarian pasta dishes; gnocchi gorgonzola and a risotto that is made with freshly imported porcini (frozen but still pungent) and stracciatella cheese which is that wonderful Italian cheese that almost stretches all the way from the plate to your mouth.
Big eaters can have lamb ribs, a half metre skewer of market meats and vegetables with salsa verde, fish, crumbed veal and a charcoal marinated baby chicken.
But for me, it's the pizza that cannot be missed. There are two sorts of pizza – the first and more common pizza has a tomato pulp base on which a variety of carefully thought out and traditional toppings are piled up. The classics are Margherita, Marinara and Napoletana while some modern variations are offered too. Or step up and go for a gourmet or special pizza with some stunning combos like mozzarella, prawn, pesto and zucchini, or salsiccia which has Italian pork fennel sausage, mozzarella, spiced broccoli, and parmesan. And then of course, there's my absolute favourite the pizza bianco (white pizza as there is not tomato pulp) that I mentioned in my first paragraph. It really is a thing of wonder. And also a thing of wonder is that pizzas can be ordered as a magnificent metre-long takeaway.
After his prize winning trip to Italy Maglione decided to make the best pizza he would need the best pizza oven. So that enormous electric fired oven at the rear of the restaurant is about to be flung out and right now, on the sea somewhere, is an even more enormous wood-fired pizza oven that should be installed by the end of the month. Then, Maglione promises, Farina pizzas will be even more magnificent. That new oven will bake them in 60-90 seconds and the thin crust will be crisp and smoky. I cannot wait.
FARINA 244 Ponsonby Rd, ph 390 6213 Takeway pizzas; ph 0800 868 674 Open 7 days: 12 noon to 10.30pm Aperitivo evenings from 4pm to 6pm Tuesday to Thursday www.farina.co.nz