11 December 2014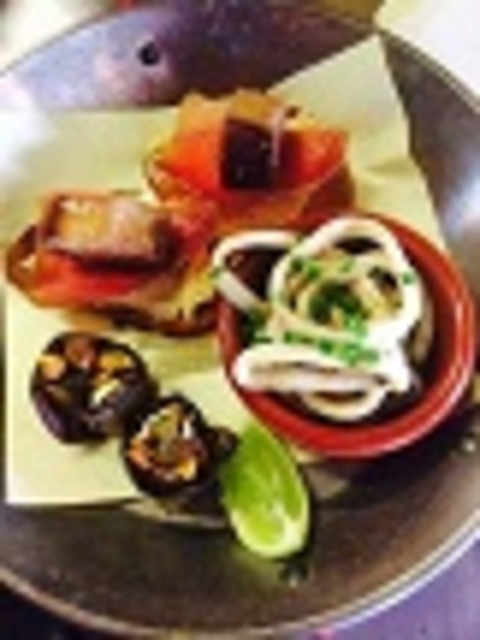 I have been to Siostra a couple of times but it just dawned on me that I should have taken my sister there to share a meal. She would love it. Siostra is Polish for 'sisters' and there's something very familial and friendly about this cosy neighbourhood restaurant. Not surprising, as it is the latest venture from a pair of talented sisters, Esther (ex Sunday Painters) and Beki Lamb who are madly passionate about food and hospitality.
Like my sister and me, the pair must have grown up in a home where meals were very important, as their passion for lovely fare is clearly on display. The sisterly theme extends to the art and the menus. On the back of the various lists (bar, dining menu, brunch, wine, etc) there are stunning black and white shots of pairs of sisters. I especially loved the young Hemingway girls, Mariel and Margaux, and those two famously naughty sisters Jackie and Joan Collins.
And the food from those menus emerges from the kitchen on an eclectic selection of plates, some harking back to past family favourites. One of the dining room walls is decorated with a very nostalgic display of old china plates.
The Lamb sisters took over a much loved restaurant, Delicious, which was known for its terrific pasta, but that carb-heavy starchy fare has sadly become so yesterday with the advance of the current crazy trend for Paleo, raw food, unusual grains, gluten free and superfoods. There's none of that hysterical trendiness at their Siostra, thank goodness. What there is on the menu however is totally appealing and appetising; lovingly prepared food-of-the-minute that occasionally harks back to the comfort food of the past, albeit with a new twist and plenty of gutsy flavour.
The layout of the restaurant has not been fiddled with. The first view as you enter is over the large wooden bar through to the busy kitchen. That bar is very welcoming and a great place to enjoy some very original cocktails (all with girls' names and one might just be your sister!) if you have to wait. No bookings are taken, although there is a cosy private space on the first floor for small parties. I think I am now a fan of no bookings, especially when the dining is casual and friendly, and the service is swift. It makes for a great neighbourhood feel which is exactly what Siostra is – a fine local eatery.
The menu is divided thoughtfully, so rather than traditional entrees and mains, you can have Now, Soon, Charcuterie, Later & After choices. 'Now' features little nibbley things to get started on like almonds, olives, or freshly shucked Mahurangi oysters, the very nostalgic 'devils on horseback' (yum- childhood food), and a rather daring and delicious octopus and chorizo skewer with ouzo aioli (love the aniseedy flavour of ouzo.)
'Soon' are plates to share and it would be hard to go past the stunning salad of beetroot and goat cheese with freekah (oops – a trendy grain) and chopped roasted pistachios. The fried calamari with squid ink mayo was really truly moreish and the scallops must be ordered as six beautiful plump morsels arrive with cauliflower puree, lentils and guanciale.
That scallop dish is destined to become a Siostra classic I dare to suggest, as the combination is perfect, beautifully presented in scallop shells with crisp pieces of guanciale which is dry smoky pig cheek, not unlike bacon. Loving mussels, I ordered the baked mussels with taro chips one lunch time. I was disappointed that the mussel flavour was strongly present yet someone in the kitchen had chopped or pureed those mussels so finely I did not find a single speck to chew on, and the accompanying taro chips were really dry and bland. But that is the only niggle I have.
"Charcuterie' is also a house specialty and we loved our wee jar of lamb tongues' rillettes, rather like a tasty pâté, which was accompanied by bread and pickles, as are all the charcuterie selections. A big platter of the kitchen's selection of cold cuts would be perfect to share amongst four or six people.
And so on to the 'Later' courses. The chargrilled T-bone may be the biggest and certainly the best value steak in town. $34 gets you a humungus piece of meat the size of a dinner plate, and unlike the fancy-schmancy steak houses around where you would be paying for just the meat and at twice the price, Siostra's kitchen garnishes that T-bone with crab and smoked cheese jalapeno and a pile of buttermilk slaw. A showstopper if ever and a real challenge for the fainthearted!
On a more restrained but still very tasty note, the market fish (snapper the night we ordered) is a lovely combination of fillets of fresh pan-fried fish with tender grilled calamari, braised tomato and an unusual black rice fritter. And from the specials board which usually has a couple of inspired dishes posted each day, a $28 generous Spanish-style stew of Cloudy Bay diamond clams with prawn and crab balls in a wonderful tomato broth. There were two large pieces of grilled sourdough to mop up the juices, and two thoughtfully places bowls – one for the shells and the other filled with warm water and lemon to wash my fingers. I sure needed them as those sweet clams may be the absolute best protein we produce in New Zealand and I was determined to get every single skerrick of the meaty flesh out of those shells.
The 'After' list has several desserts, cheese, and dessert wines, port, and coffee and teas. There's a deep fried apple pie with dulce de leche icecream that has the sweet-of-tooth around town raving but that's a step too far for me. I would need to go straight to the gym after that! However I can recommend from personal eating experience, the prune and armagnac crème brulée which was the lightest I have ever encountered, and a special of goat cheesecake garnished with seasonal strawberries. That cake could have floated away from its nutty base if it was any lighter. It struck the right note to end a dinner as it was part sweet and part savoury.
And not to miss is Esther Lamb's wine list. It is a stunning selection of well-priced wines that should please everyone from a wine novice to a connoisseur. Predominantly New Zealand with a nod to interesting offshore bottles, and almost every wine on the list is available by the glass, including the champagnes. You've gotta love a wine list where the listed sav blancs are Clos Marguerite and Cloudy Bay. Well done Esther!
Siostra, 472 Richmond Rd Grey Lynn ph 09 360 6207
Open lunch and dinner 6 days (closed Mondays) Brunch from 9am Weekends.