14 February 2016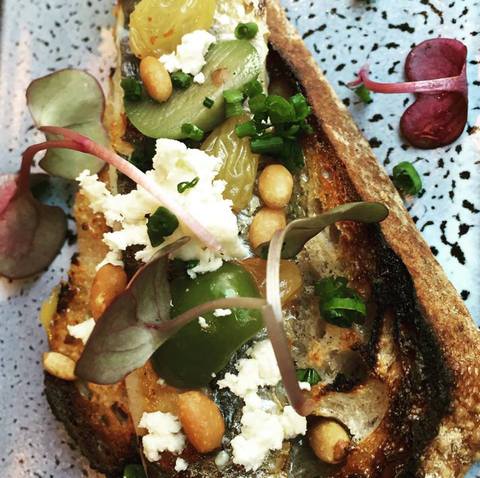 In the corner of Baduzzi, right next to the kitchen, sit a pile of well-thumbed cookery books. It's a busy kitchen with an army of chefs, quietly going about their work. Those books are the clue needed to see the inspiration behind Michael and Annette Dearth's (of The Grove fame) very successful second restaurant. One of the many Italian books, A16 Food + Wine, is from an exemplary San Francisco restaurant where equal emphasis is place on excellent Italian wine and modern Italian food. The owners are friends of the family and their fine work is exactly what happens here too, both Italian food and wine prepared from our own seasonal ingredients prepared and served daily with lovely wines to an ever appreciative crowd of regular diners.
We are lucky in New Zealand to have attracted a new wave of people in the past two or three decades who not only have enhanced our life, but have provided wide ranging opportunities to encounter great food — food that was outside our traditional base of Anglo and French influenced cuisine — regional Chinese, Vietnamese, Thai and other Asian specialties, spicy Middle eastern options, and even food from South and Central America and occasionally Africa. Of course we alwys knew Italian fare — pizza and pasta — but it has taken just two or three operators to expose us to authentic modern Italian cuisine. Antonio Crisci and then his nephew Sergio Maglioni extended our knowledge and experience. And then along came the Dearths.
This passionate American couple, who with their talented executive chef Ben Bayly, have rewritten the book on Italian in our city with Baduzzi. Baduzzi are 'meatballs' and I defy any diner to eat at this waterfront restaurant in the North Wharf precinct and not order at least one helping of these orbs of deliciousness. As an aside, despite the restaurant's name Baduzzi, on the menu they are listed as polpette, which is rather confusing for all.
Since day one, about eighteen months ago or more, the number one choice from this section of the menu has been the crayfish meatballs with savoy cabbage and pecorino. There might be a riot if it were to disappear. Also presently offered are red deer meatballs with mushrooms and parsnip, smoked beef with aubergine (melanzane in Italian) and some very savoury organic lamb and wild thyme meatballs with preserved lemon and a spicy tomtoey gravy. Be forewarned however, each serving comes with three meatballs but it's easy to order extra if everyone is to have an equal share.
One night there were large parties around us. Bookings are not taken apart from those large groups so it may be wise to gather up all your friends and head there. Not a bad idea actually as that way you could almost try everything on the menu. The groups all kicked off with long wooden platters of Italian cured meats which were gently making waves over some fresh chunky breads. They were happy munchers.
Meanwhile we shared about three of the little plates; a highly recommended boned and grilled piper anointed with pine nuts, feta and raisins which was salty, sweet and tangy, some divine grilled tuna with shaved fennel and spices which made an interesting play on the classic vitello tonnato, and a plate of the aforementioned very tasty lamb meatballs.
After that it's on to primi and secondi courses. Oh to have the constitution to have one of each! Primi are the pasta courses and the star of the show is the beetroot pappardelle with gorgeous little pieces of fried paua, smoked pancetta, fresh beetroot thinly sliced and there in the centre, a slow cooked runny quail's egg. I told a friend about the dish and she looked at me quizzically; "What else would you ever want to eat there?" she asked. I demurred as I too probably would eat that again. And again. And Again.
All the pasta dishes, and there are about six of them are handmade in the kitchen daily. No wonder there's a big staff, all expertly led by head chef Glen File who looks like he could never be ruffled.
In the secondi section things get intense. For $40 you can order a tribute to the pig. Nose to tail eating with a variety of cuts and cured meats. Or a serious selection of beef cuts that are ordered by weight — flatiron steak, beef sirloin or a modern interpretation of the classic bistecca alla fiorentina, which are all accompanied by a rocket salad to cut the richness of the juicy meat.
Thoughtfully, vegetarians are truly looked after. They get their own section on the menu with six entries that include old favourites from eggplant parmigiana or a witloof salad with gorgonzola to frightfully modern buttered maltagliati with buttercup and crystalised pumpkin seeds and pickled black walnuts.
And if you have room for dessert the sweet treats are beautifully made and presented. Here's a tiramisu to die for. Or Italian cheeses to finish on a savoury note.
The staff are all terribly helpful and knowledgeable. As they must be. They know their food well and can help with the wine list which is almost exclusively Italian — we certainly all need help with that if we're to venture beyond prosecco and chianti. I spied one of my favourites from Sicily's Arianna Occhipinti and also enjoyed a smooth and rich red wine from Puglia. The list is helpfully arranged into $40, $60, $80 and Big Boy wines and beware you could spend up to $1,400 on a fantastico Sassacaia.
When the various restaurants opened at that end of the city's sea front, there were only one or two that could be taken seriously apart from a place to relax and sip on a beer. When the far too smart ASB building was completed and the Dearths snapped up this site, not far from the fish markets, things changed. It is a top destination in a top location, with classy décor and food and wine to match. Just a pity it's not on the front row so there could be views of the sea on calm sunny days. Do not miss the opportunity to eat there.
Baduzzi, corner of Fish Lane & Jellicoe Street, North Wharf. Phone 09 3099339.
Open everyday from 11.30am. Bookings at lunch or for parties of more than 8.