1 June 2015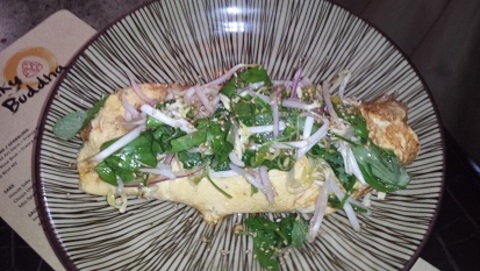 When clever chefs get together to create a restaurant that celebrates the flavours they've grown up with in South East Asia, their exciting jumble of tastes make for an intriguing menu. Michael Choi and Simon Cho are the partners in the recently opened Lucky Buddha restaurant in the central city, bringing a wealth of their cooking experience and techniques, and expertise in hospitality together.
Choi has worked alongside chef Michael Meredith and in such respected kitchens as the Grove and Otto's, and teaches part time in the kitchens at AUT. Cho owned a couple of the very best sushi outlets (Bien) that have appeared in Auckland. They, along with their sous-chef Kevin Puyat could have successfully created high-end, refined food, but instead have aimed for a casual approach that is really appealing.
And every dish exhibits lovely zingy Asian flavours and fresh ingredients that hark from the influences of Filipino to China and almost everywhere in between.
The site they've chosen for Lucky Buddha is almost off the beaten track, in that curious precinct two or three blocks back from Auckland's waterfront that is Fort Street. Better known for seediness in a long stretch of times past, or maybe for those readers with very, very long memories, this area was where you could once upon a time find the excellent European restaurant Troika, a place my husband had his first real date (but not with me!) It is now a bustling and upcoming foodie destination in the inner city. It may lack the sophistication of nearby Britomart, but this new restaurant sits in good company nearby the wonderful Ima and Ima Deli, a Sal's Pizzeria and juice/salad bar both about to open across the street, and a plethora of quirky little Asian eateries including a noisy Chinese barbecue restaurant that is packed to the walls every lunch time around the corner in Commerce Street.
With a dizzily high ceiling, huge street front glass windows and an inviting bar running along the front Lucky Buddha oozes the same casualness that the kitchen aims for on the plate. There's a large central table to perch at (perfect if you are in the sad state of eating alone) and lots of face to face seating underneath some bright paintings that lighten up the walls along the side. It can be draughty here so dress warmly, but thoughtfully there's a whole basket of light blankets proffered to drape around any bodies feeling the cold.
And from the kitchen – a menu of dishes to share and savour, just as diners would in any casual Southeast Asian feast. Of the starters, there's not a dish there that doesn't deserve its place. The shumai, filled with prawns and waterchestnuts are Choi's favourite thing on the menu, available at dinner only, sadly. These little steamed treasures are offered alongside nhem - little fried-till-they-are-crispy rice balls that reminded me of arancini, served with lovely coconut and something called bagoong dressing which was salty and sweet with a slight citrus tang.
Not to be missed are the guo bao – genuine doughy steamed buns filled with sriracha basted pork, peanut seasoning and hoisin. You pick them up in your fingers, take a bite and they burst with flavour as all the yummy juices run down your chin. Lovely stuff. Also do not go past the eggplant; steamed until soft then grilled with miso and topped with grated parmesan which is a total surprise. Who knew that umami Japanese flavour would cosy up to Italian cheese?
There's short raw section too, with tartare of beef, free range yolk, nashi pear and crisps, some fresh yellowfin tuna that reeks of Japanese flavours with accompanying komezu jelly, bonito and seaweed salad, and a refreshing interpretation of hamachi – the kingfish sashimi that comes with soy bean, yuzu and sesame and a topping of crisp nori.
The salads that were on the late summer menu have been largely supplanted by more wintry food to match the season. The angry chicken remains – spicy, ever so crisp nuggets of chicken with a little jasmine rice, mayo, and piles of fresh slaw with tangy sesame flavours. A spicy red curry is packed with pumpkin, chickpeas, sunflower seeds simmered in a reduced coconut sauce and then topped with a table of spinach and herby leaves and chilli and more grated fresh coconut. The 'folded egg' – lunchtime only and pictured above - turns out to be the best omelette ever. Pale and soft, it contains tasty fried tofu cubes and a huge pile of fresh crisp vegetable salad bathed in a spicy vinaigrette and is the perfect lunch for the business crowds from the nearby towers of industry and commerce that sit above Fort Street.
Vegetarians rejoice as you will be well looked after, despite the listings of other mains of steamed fish which tops a ramen noodle smoked pork broth, miso glazed duck leg, braised beef brisket with pinenuts and swede, meltingly tender lamb ribs that are simmered in a chinkiang vinegar caramel with carrot and apple and a huge 400g ribeye angus beef steak with seaweed butter, lily pods and shiitake. This is food that defies boundaries, but is exciting, challenging and well thought through.
Be sure to leave room for dessert. 'Coconut snow' turned out to be the most divine sweet treat I have eaten this year and the taste and perfume of this Filipino inspired dish certainly defied its rather messy look. Covered in flower petals, grated toasted coconut and weetbix crumbs, it was totally enchanting to eat with a cooling coconut granita, big pearls of tapioca, and other delicious textures all submerged in a gorgeous sweet chilled milky broth. Sound strange? I can assure readers it is worth a detour. There's also a three rice pudding that a play on gulab malaka, a black tea pannacotta with pineapple, lychee and black tea syrup, and a kaffir limeparfait with pandan butterscotch. Sweet heaven!
In charge of the drinks department is Eddie Nadarajah, who has a wonderfully complex heritage of Asian and European. He mixes up several stylish cocktails that all exhibit appropriate flavours reminiscent of Asia, and has put together a beer list from China, Vietnam, Japan and the craft beers of Baird Rising to match the cuisine. And there's Lucky Buddha, of course. The wine list is not extensive, but extremely well chosen with lots of lovely aromatics including Felton Road Riesling and Loveblock organic gewürztraminer.
I loved Lucky Buddha's food at first bite, mainly as the flavours were subtle, the dishes were all piled with fresh crisp herbs and vegetables and everything was imaginative, defying the need to be labelled from any particular Asian cuisine but instead embracing them all. And the waitstaff were so helpful and delightfully knowledgeable about everything.
Lucky Buddha Eatery, 48 Fort Street, Auckland City, ph 09 309 3990
Open; Lunch Monday to Friday, Dinner Tuesday to Saturday Price Range; Starters $9 to $16, Large Plates $18 to $28, Desserts $12