6 October 2015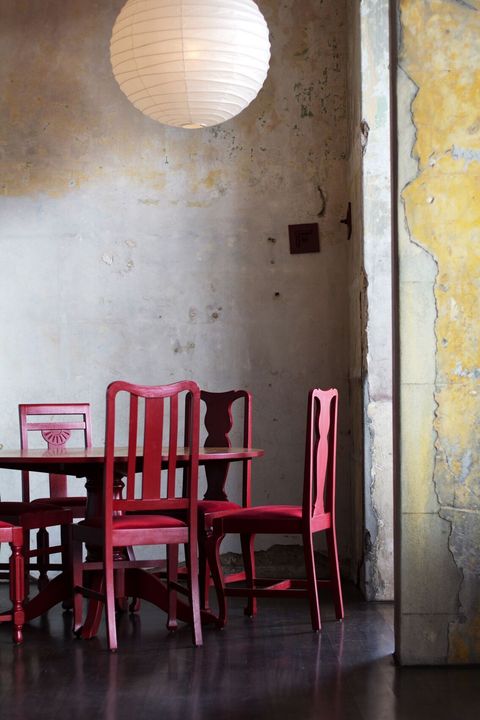 Fresh fragrant herbs and the sharp tangy fish sauce are the two standout hallmarks of Vietnamese cooking. It is a gentle cuisine with soft spices, plenty of sweet notes, only a hint of fiery chilli and lots of fresh vegetables and tropical fruits.
And no-one is more passionate about it than Jason Van Dorsten, the chef of Café Hanoi in the city centre. With business partners and restaurant manager Krishna Botica this popular restaurant was set up five years ago and was among the first to venture into what has now become a vital part of the city. From the moment it opened Aucklanders thronged there to experience feasts of incredible variety in a casual friendly atmosphere.
Van Dorsten has lived in Vietnam and visited numerous times over the past eleven years in search of street food, traditional dining in old Hanoi city and adventure. All of which he brings to the menu in a variety of dishes. This is food to never tire of as of all the different cuisines of Asia, this stands out for the variety of flavours and mellow and mild fresh tastes that echo the street food and classic dishes of North Vietnam.
He is so enthusiastic about the country that the restaurant website has a great list he has compiled of where to eat and what not to miss if you're heading that way.
The restaurant is housed in one of the old heritage buildings that ring the Britomart precinct, and the brick walls, wooden floors, paper light shades and slightly antique Asian feel is a perfect fit. Looking out the window through the slanted blinds you can imagine you are in New York, Chicago or somewhere decidedly international. The open kitchen provides plenty of theatre and the best seats in the house are at the Chef's Table, a high top right in front of all the action.
The menu is extensive as this is a place to gather a few friends together for food that is really suited to grazing from the various plates. Divided into three sections — modern Vietnamese, Old Quarter favourites, and 'And Then Some' (which turns out to be small salads and accompaniments), diners are spoilt for choice.
Kick off with some of the smaller dishes. The staff are helpful, taking time to explain anything and everything. The goi cuon, summer rolls of roasted pork, shrimp, fresh herbs and peanuts are exactly the right item to start with as they're refreshing, delicate and tasty, and along the classic pho ga, are probably the quintessential menu items speaking loudly of classic Vietnamese street food. That pho is an ideal dish to order if dining alone or when not in the mood for sharing as it is a traditional chicken noodle broth, with slices of chicken and topped with herbs to make it the ultimate comfort food.
Other starters are a small bites of excellent minced beef, wrapped in a perilla leaf with a chilli ginger sauce and peanuts, lovely pork wontons with chilled crab, and really juicy tiger prawns coated in young green rice which provides a wonderful textural element.
It's then time to move on to larger shared plates. It is almost impossible to choose, but for me standouts have been the steamed Cloudy Bay clams in a fragrant lemon grass broth, the classic shaking beef which is made tasty with soy marinade, a Hanoi style grilled pork with rice noodles, herbs and good dose of nuoc cham — the fish sauce that is so central to the food, and a delicious wok seared squid with tomato, leek, ginger and dill. Do not miss the traditional crispy pancake fille with pork and shrimp and fine fresh lettuce and herbs.
Fishy treats include a very unusual and bold dish, the caramelised twice cooked mullet which is seared with galangal and ginger. It came with a warning about small bones, nevertheless it was worth the careful effort, endless tooth-picking and bone-catching required as the flavour was terrific — salty, sweet and sour at once and happily it arrived with a finger bowl of warm water so we could clean up after feasting on this dark tasty fish, generally overlooked by chefs. Another favourite is the whole baked terakihi, which is precisely the opposite to that mullet as the kitchen takes all the bones out for the diner and then adds a pile of herbs, garlic, spring onion and lovely cooling grilled lime.
Vegetarians have a choice of three excellent tofu dishes; two cooked in modern Vietnamese style. The first is steamed soy and black pepper tofu with steamed bok choy and the other a fried lemongrass tofu with lovely cinnamon smoked mushroom, wilted spinach and pickled mung beans. And in the traditional section of the menu there's a great stir-fry of soy marinated tofu with cabbage, daikon, mint and peanuts. Add in a selection of the stunning small vegetable side dishes and a veritable vegetarian feast can be enjoyed.
The drinks list has been selected with the food in mind. Cocktails echo the flavours found in the food — ginger, lime, aromatic light zingy drinks to relax over before eating or even to accompany the meal. Beer is a great accompaniment to this fare and from a good list there are beers from both Hanoi, slightly malty and robust and from Saigon, lighter and more refreshing. As for the wine, plenty of aromatic white wines and just three chardonnays and a smaller selection of red wines with a distinct international feel.
Dessert cannot be missed, especially the lovely sago pudding with white chocolate and yogurt cream and palm sugar caramel or the mongo mousse with fresh coconut and candied green rice.
Krishna Botica, who has presided over Café Hanoi for five years is a well-regarded leader on the Auckland hospitality scene. She was known for many years for her front of house position at Prego and those who enjoyed her flair for fun and consummate professionalism will be delighted to learn she is about to expand her business with a return to the Strip. She has plans for an all-new Northern Thai restaurant but I cannot possibly reveal more than that, but look out for it in late October/early November. Exciting times.
Café Hanoi, Corner of Galway Street & Commerce Street, Britomart, Auckland 1010, Ph 09-302 3478
Open Mon to Sat Lunch and dinner, Sundays from 5pm. Reservations at lunch only or for groups of ten or more. Private dining room in the cellar.