Lauraine Jacobs
Food Writer and Author of Delicious Books
About the author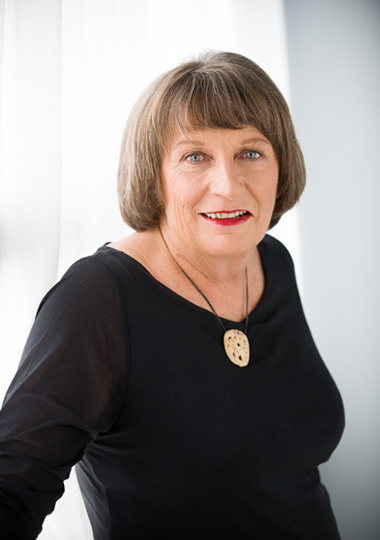 Welcome!
Lauraine Jacobs, a Past President of the NZ Guild of Food Writers, is the FOOD COLUMNIST for the NZ LISTENER magazine, an internationally respected food and wine writer and author/editor of nine cookbooks and one travel book, Matakana. EVERLASTING FEAST, was her memoir with 100 recipes, published by Random House NZ in April 2013.
In September 2018, Potton & Burton published ALWAYS DELICIOUS, Favourite Recipes from The NZ Listener, a beautiful book filled with recipes, tips, food talk and stunning photography by Liz Clarkson. Look under the tab at right, Lauraine's Books for further information.
Trained at the London Cordon Bleu School she has been writing on all matters culinary for more than 25 years, starting as food editor of Fashion Quarterly in the late '80s, and served as food editor for Cuisine magazine until 2009. Her bestselling cook book, The Confident Cook, is a much loved and used book in many New Zealand homes. She edited A Treasury of New Zealand Baking, (now in reprint) which has raised more than $50,000 in royalties for the Breast Cancer Foundation, and in 2010 worked with NZGFW members to edit Comfort, Food to Share from which all royalties benefit the Starship Foundation. The New Zealand Vegetable Cookbook, was co-authored with Ginny Grant and Kathy Paterson, and released in mid August 2010.
A passionate cook and lover of simply presented fresh food, she has won many food and recipe writing awards including two Gold Ladles at the World Food Media Awards. A tireless champion of the New Zealand fine culinary scene, especially small artisan producers, regional specialty foods and farmers markets throughout the country, she was the major contributor to the Gold Ladle winning Cuisine Wine Country. In October 2018 Lauraine was honoured to be made a Life Member of the NZ Guild of Food Writers.
Lauraine spent eight years on the Board of Directors of the USA-based International Association of Culinary Professionals and served as president of this prestigious group in 2002. She was a member of the 2005/2006 New Zealand Government-appointed Food & Beverage Taskforce, and has also served as a food and wine ambassador for New Zealand's Trade & Enterprise initiative in North America.
Lauraine was very proud to accept an MNZM in the Queens Birthday Honours List in 2009 for services to the food industry. She lives in Auckland, and continues to be passionate about the amazing culinary possibilities for New Zealand food and wine, and is a member of the Advisory Board for ConversatioNZ. Her dream is that New Zealand becomes an internationally recognised food tourism destination.
She spends her leisure time on an amazing stretch of Pacific coast near Matakana, travels frequently to food destination and frequently eats out. As an antidote to the eating and wine drinking her life demands, Lauraine plays golf regularly.
Lauraine is available for:
Consulting work
Hosting events
Speaking engagements on food trends and eating out
Freelance writing on food and wine