30 March 2015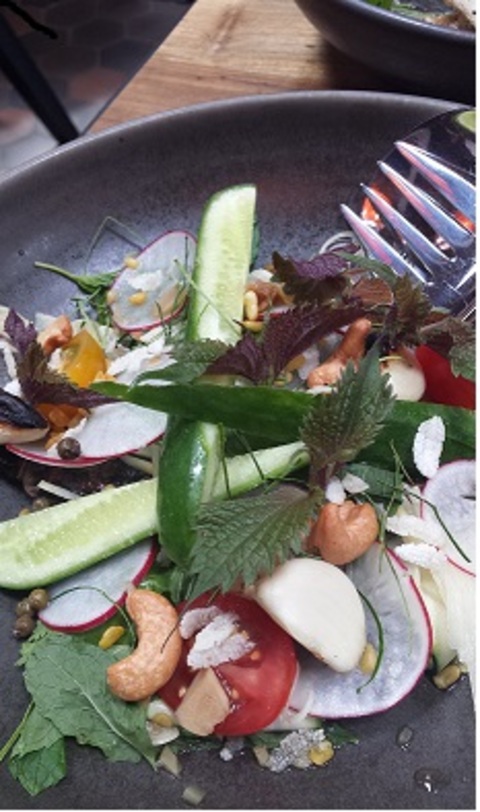 Question: How long has it been since everyone who lives east of Queen Street has had to trek over to Ponsonby if they want to eat out and have a load of fun? Answer: Probably ever since Mark Wallbank moved on from Cibo in Parnell which seems like a lifetime ago.
Well the tide and the tables have turned. Ponsonby has arrived in Parnell. And it's a sure bet that everyone who loves good food and fun has become a regular at one of Wallbank's three racy restaurants on Ponsonby Road (MooChowChow, Blue Breeze Inn and Chop Chop.) Now the Ponsonby-ites, if they already haven't, will be heading to eat at his new venture, Woodpecker Hill, slap bang in the middle of the Strip that is Parnell Rise. And once again Wallbank and his chef, Che Barrington have raised the bar, venturing into territory that is new, racy and exciting. Across town, no less!
The theme of Woodpecker Hill is American southern barbecue meets hot Asian spice. Chef Che Barrington is the master of south-east Asian flavours and his menu is a triumph of the combination of gorgeous smoky flavours of that southern American long, slow style of wood smoke cooking, and the fiery chilli, ginger, galangal, shallots and tamarind punch of Asian street food. But the real star of this unlikely amalgamation is Barrington's heavy handedness with fresh, palate cleansing herbs like Vietnamese mint, perilla, lemongrass and more. It excites, it calms and it challenges the palate.
So what's on the menu? Delicious stuff! There are two absolute standouts. The first is a single mouthful – one oyster, freshly shucked, frosty and still in its shell, with a topping of the tiniest cubes of cured sweet pork and the added punch of finely sliced green chili and a splash of lime. At $6 this may be the best Bluff oyster of the season. The other standout is the fourteen hour smoked beef brisket – gorgeous sliced slabs of smoky beef straight from the restaurant's stunning smoker, that are so tender they can be eaten with a spoon. Better still this beef is accompanied by what has become the signature of the restaurant, a tangle of the fresh green Asian flavours of herbs, chilli, galangal and lemongrass. I am sure the great and famous barbecue kings of the States would be as blown away by this lovely dish as we were.
What has become the modern dining trend is evident here. Don't even think about going there and having that old format of entrée, main and maybe a dessert. Instead order a wide selection of what really appeals and share everything. (We even ended up sharing a couple of our dishes with the diners at a neighbouring table as the food was too good not to!) Price seems to be the determinant of whether a dish is small or substantial, although the ever helpful staff will happily advise diners. There's a range from $10 for stir fried bok choy or the deep fried pickles through to $30-32 for red smoky pork curry, a stunning chargrilled soy duck, an exceptional dry curry of BBQ duck (duck is a theme here), that afore mentioned fourteen hour beef, and a stir fry of soft shell crab that almost has hints of India with its flavour profile of turmeric, tamarind and crispy shallots. There's lots in between too.
Also in line with modern dining, there is a fine choice of dishes that are concentrated on excellent vegetables. As one of my dining companions one night said this is a restaurant where you could be truly satisfied by sticking to vegetables only. On two occasions I have adored a crisp dish of deep fried eggplant in a light-as-air batter, served with tamarind, sesame and a toss of herbs. The current dish of roasted cauliflower is worth a detour, and the green papaya salad is filled with interesting flavours. (PN Editor please note – you will love it.) An interesting note in small print on the menu says; "Vegetarians, please talk to our waitstaff for tofu or vegetable substitutions for most dishes." Now there's a kitchen that is tune with its customers.
Already changes have been made to the opening menu. Any kitchen will do this once the ebbs and flows of service and the customer response is taken into account. And that's a really good reason those competitive reviewers around town who seem to have to go to a new opening within a day or two of the doors being flung open should hold their breath. A slimy pudding that made its appearance in the first week (I liked it but it seems no-one else did) has disappeared. It has been replaced by a complete rework so it is now sticky black rice with coconut ice-cream with the lovely gooey honeycomb that I fell in love with.
All sound good so far? There's more. The wine and drinks document has been written with wit and knowledge. Do not miss it. There are at least 30 great choices of wine by the glass, and possibly the best selection of American whites and reds in any NZ restaurant. But there was something else that took me back to Louisville, Kentucky, the scene of the famous Derby and a place I have visited about ten times. So here's the thing. This is a restaurant with bourbon. Seriously, and in serious amounts. Even a beverage, White Lightning, that's unique to Woodpecker Hill along with many other bourbons and southern whiskies. If you have never tried bourbon, head there as soon as possible, engage with the barman and do a tasting of this wonderfully smooth and heady drink.
There's also an ice shaver at the bar and the best selection of non-alcoholic drinks in town in a place that takes booze seriously. There's something about the décor that also screams southern States, despite those curious woolly sheepskins backing many of the seats. Maybe it's the brown colour everywhere, the eclectic accumulation of lights and astonishing lampshades, the piles of wood logs or the spacious bar area where you can happily wait for your table. One thing is certain the décor works for me far better at night when it seems cosy and welcoming, rather than through the day when the brownness and wintry fabrics are a tad depressing. But that's a very personal view and others I know love it anytime. What we all love is the return of the brilliant restaurant team of Wallbank and Barrington and their excellent staff and superb food and drink to Parnell. My money is on this place being the best new thing.
Woodpecker Hill, 196 Parnell Rd, Parnell phone 09 309 5055 open 7 days lunch and dinner