28 April 2020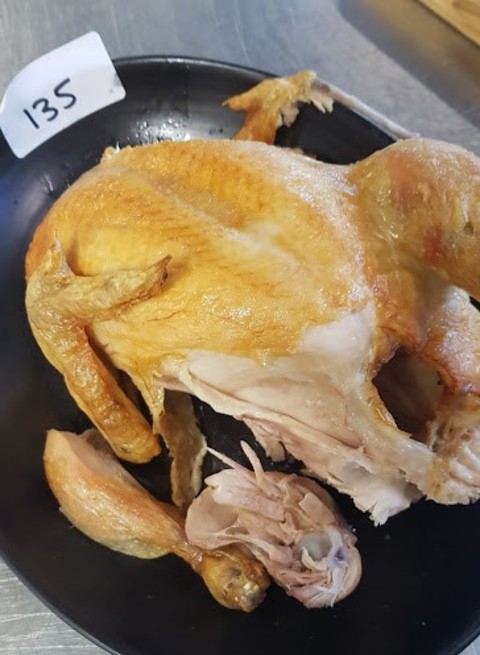 There it was. A golden chicken, straight from the oven, roasted unadorned with nothing more than a smear of olive oil and some salt. The panel of three judges working on the 'paddock' section of entries of the Outstanding NZ Food Producer Awards sniffed the aroma, prodded the skin and grabbed a sharp knife to carve into the bird before them. The dark leg meat and slices of white breast meat were devoured with gusto. They raved. "Outstanding flavour, succulent, great texture and truly delicious."
Held in the week before lockdown, winners of the awards were announced last week. It is a total privilege to serve as Head Judge of these awards. I spend a whole day moving around the many teams of expert judges – food writers, small business owners, chefs and teachers - observing the tasting, answering questions and adding opinion when asked. The food is judged blind – no branding or link to the producer or grower as an entirely different panel marks the sustainability, and the brand story to add to the total marks.
That wonderful chicken, an organic whole chicken from Hawke's Bay Bostock Brothers, won the Supreme Champion with almost perfect marks. The business owners, two young brothers are a fine example of our country's innovative and energetic food producers. They identified a niche market, put in endless hours of hard work to get these birds into our supermarkets and it was a thrill to see them come out on top. Congratulations Ben and George!
The Awards team each year invites all New Zealand food and producers to enter, from tiny start-ups to well established businesses. Products are judged in various categories; Paddock, Dairy, Water, Drink, Earth. Gold, Silver and Bronze medals are awarded including champion awards for the best in each of these categories. Also awards are bestowed for the best in sustainability, best new product, best new business, and an award for the ever growing area of "Free From" to recognise products which cater to dietary issues and special allergies.
Champions for 2020 were Ahia's freshly smoked kahawai with manuka honey (Water), Pure Ice Cream's boysenberry ice cream (Dairy), Fix & Fogg's Everything Butter (Earth), Forage & Ferment's wild kefir with ginger root (Drink), and Bostocks chicken (Earth.) Additional winners were Clevedon Herbs and Produce, Raglan Food Co, Blue Frog porridge, Zaroa smoked beef brisket, Foundry Chocolate. The public voted Otago Farmers Market as the most popular market and Fernglen's pure sheep milk as the outstanding food producer.
As we venture out and about shopping for delicious food it will be well worth looking for all the products displaying gold, silver and bronze medals. These outstanding products need our support in the worrying times ahead. Some are not easy to find but many can also be purchased online. For a full list of winners and many amazing products go to the Outstanding NZ Food Producers website.
Visit the Outstanding Food Producer site for details.