19 November 2020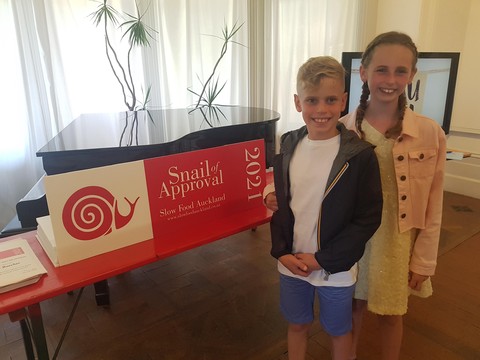 Auckland is firmly claiming a new designation, City of Snails. Some unkind folk have called, for good reason, this to be a City of Cones – not because of the wonderful volcanic maunga that dot the city – but due to the everlasting use of road cones that inevitably bring the city traffic to a snail's pace while just everything is being rebuilt and reorganised.
Regardless of the traffic snarlups there's another great snail pace reason to claim this the City of Snails. There's so much renewed interest in food, there are so many wonderful new restaurants opening despite the curse of covid, and now the city has a bunch of local businesses who have recently been awarded the Slow Food 'Snail of Approval' certificate.
The Slow Food movement is worldwide, started last century in Turin by an Italian food aficionado Carlo Petrini, outraged by McDonalds fast food outlets opening in his country. He aimed to change the attitude of the world through food, and to celebrate and treasure the love of food cultures, rituals and traditions. There are now thousands of members all over the world and events, programmes and simple gatherings to follow his lead. One of the internationally recognised Slow Food programmes is the Snail of Approval designation for small businesses that exhibit passion for everything local, that celebrate locally grown and produced food that is good, clean and fair, and to distinguish intent, passion, and effort rather than perfection.
So congratulations to the following Auckland Small Businesses with the Slow Food Snail of Approval:
• A Lady Butcher •
• Brick Bay Wines •
• Cazador •
• Clevedon Buffalo •
• Curious Croppers •
• Earthbound Honey •
• Foundry Chocolate •
• Giapo •
• Hāngi Master •
• Kelmarna Gardens •
• Ooooby •
• Pasta & Cuore •
• Rangihoua Estate •
• Scarecrow
A terrific list that is really assisting Auckland in its position as culinary capital of Aotearoa. Please get out, support and buy from these fabulous, conscientious people.
Pic above. The excited Giapo ice cream kids - next generation Slow Food fans.