11 September 2020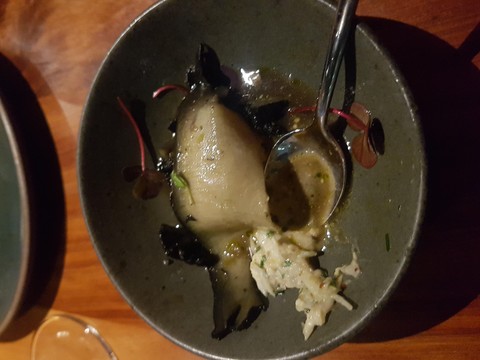 For years everyone in the food industry from chefs to food writers have struggled with the concept of a unique and identifiable NZ cuisine. Although we serve traditional roasts, whip up cream laden pavlovas, eat Weetbix or muesli for breakfast, and fill our plates with meat and three vegies that way of eating is mostly often emulating the very British fare that early settlers ate. Or we mumble about hāngi feasts without knowing and understanding the layers of rich tradition involved.
I have often puzzled about this, written for various publications and spoken at length in discussions, workshops and conversations. But not in a million years did I think that this difficult year, the Year of Covid, would be the year that finally the clues and stars to defining a true and unique cuisine for Aotearoa align.
Like many countries with their own admirable and recognisable cuisine, the focus is ingredients, shaped in the kitchens of leading chefs. We have being hiding the trump card in our deck, the indigenous fare of Aotearoa, for too long. The sheer brilliance of a small coterie of chefs are now proudly putting these ingredients on their menus, cooking them selectively with the influences and style they've been exposed to in the work around the planet.
Monique Fiso is not the first to track down the natural flora and fauna that is now showing up on menus, but it is her seminal work in her Wellington restaurant Hiakai, and the just released this week book of the same name that has finally made it to the mainstream. As I stated in my review of her book, originally written for the new website ketebooks.co.nz (see the post below,) I sincerely hope this book appears on every good chef's shelf and is used frequently.
Over the past two years Vaughan Mabee has been doing some splendid cooking at Amisfield in Central Otago and most of his dishes could only be described as New Zealand on a Plate. His artistry plays homage to much of the traditional taonga and his foraging and hunting is noteworthy. Ben Bayly has opened Ahi in Auckland's new Commercial Bay and his menu reflects traditional cooking styles and the very best ingredients that we grow or produce. In my local area, Chef Will Michell at the Sawmill Brewery's Smoko Room is cooking some stunning food that shows the influence of a stint in the Hiakai kitchen and makes terrific use of some of our lesser known kaimoana. In Dunedin, Hannes Bareiter is sourcing wonderful indigenous ingredients in his recently opened restaurant, appropriately named Titi. And of course, Monique's work at Hiakai is outstanding in every way and true to this newly recognised cuisine.
We can also look at other recent openings and see the respect being paid to our brilliant ingredients and the adoption of much of the traditions of Māori cooking, done with subtlety, empathy and care. We have myriad chefs who have grown up elsewhere, and they're keen to be part of this new identifiable direction. Their traditions, whether they're Japanese, Korean, European or Middle-eastern, melded with our amazing flavourful food will take the cuisine of Aotearoa on an exciting path in the next few years. I can't wait.
(Dish is paua and kahawai at Ahi)