8 April 2021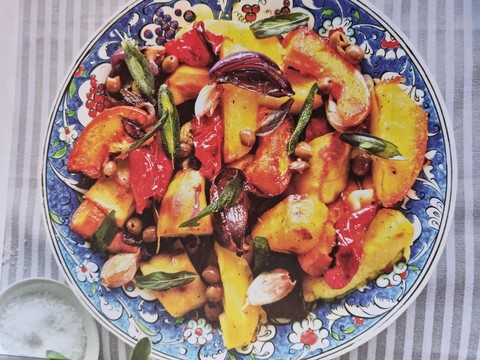 Amongst the more wintry herbs, there are two that are truly rewarding to grow in the home garden or in a patio tub all year round. The sturdy rosemary bush, found in so many urban gardens will give endless pleasure, adding a lovely scent to cooking, both sweet and savoury. And then there's the much smaller sage bush with leaves that add amazing savoury flavour for a surprising lift to meats and vegetables. Both these herbs are hardy, can be pruned back viciously and have leaves that are far better lightly cooked rather than the fresh raw tastes of their summer companions, chives, basil and parsley.
Sage has become one of my favourites. Don't be put off by the very strong flavour of those dried sage leaves, packed into small boxes on the supermarket shelves, which can become assertive and dominant in stuffings and casseroles. Using freshly plucked leaves from the bush, especially when young and tender, will make all the difference to your food. Sage originated in the Mediterranean and on the popular Dalmatian coast bees feast on endless bushes to produce a very special flavoured honey. (Our equivalent here in New Zealand is the lovely wild thyme honey from Central Otago.) The ancient Romans established sage everywhere they travelled, loving its health-giving properties, to aid digestion and prolong youth. In Italy sage is still much loved today, and one of the star recipes of Italian cookery is saltimbocca, fried thin slices of veal wrapped in prosciutto with sage leaves tucked in.
The Italians also sauté fresh sage leaves in butter briefly to make them crisp and sweet to add to all manner of dishes. When I am in a hurry and in need of a tasty lunch I will heat a little oil and butter in a very small frying pan, drop in fresh sage leaves and as they start to sizzle I carefully break two eggs on top of the leaves. I flip the eggs over and cook until almost set and then enjoy a perfect quick meal. Sage fried eggs - so tasty and prepared in less than five minutes.
Fried potatoes with sage is another way to take your cooking up a few notches. Take those beautiful little perla potatoes, rinse them and if they are larger, wash and cut the potatoes in half or into even chunks. Place them in a steamer over boiling water and cook until tender, which should take about 10-12 minutes. Put a little oil and butter into a heavy frying pan and gently heat until the butter is melted. Make sure the potatoes are well drained and dry and add to the pan with a handful of fresh sage leaves. Cook over gentle heat for about 15 minutes, tossing frequently so the potatoes turn golden and the sage leaves become crisp. Season to taste with salt and freshly ground black pepper, and serve hot.
In this easy roast recipe, take advantage of the array of the autumn harvest. A tray filled with delicious sage roasted vegetables makes a lovely meal to accompany steak or baked chicken. To finish the dish you can add anything that takes your fancy such as olives, feta or little cherry tomatoes.
Sage roasted autumn vegetables
2 medium agria potatoes
2 medium kumara
¼ small pumpkin
1 medium eggplant
2 medium onions
1 red sweetie pepper
4 cloves garlic
1 tbsp extra virgin olive oil
Salt and pepper
A large bunch of fresh sage leaves
For the dressing: 2 tsp wholegrain mustard 1 tsp salt 1 lemon, juice and grated zest 1 tbsp maple syrup
Preheat the oven to 190°C Peel potatoes and kumara carrots and cut lengthwise into quarters. Peel the pumpkin and cut pieces roughly the same size as the potato pieces. Slice the eggplant in half and then cut into similar sized pieces. Peel the onions and cut into quarters, leaving the root end on each piece. Cut the pepper in half, remove the seeds and cut into six pieces. Peel the garlic cloves and squash them gently. Put all the vegetables except the pumpkin in a large roasting pan and toss well with four tablespoons of the olive oil and a generous amount of salt and pepper. Place the pan in oven and roast for about an hour, adding the pumpkin and sage leaves after 20 minutes. Turn the vegetables once or twice, to get nice browning on all sides. While the vegetables are roasting, whisk together the remaining olive oil, lemon juice, mustard and maple syrup with a little salt. About ten minutes before the vegetables are ready, scatter over the remaining sage leaves, and continue roasting. When all is cooking and smelling aromatic, take the pan out and place the vegetables on a serving platter, and pour the dressing over. You can add little cubes of feta, some nice olives or halved cherry tomatoes to add even more interest and flavour, if you want. This is lovely served warm or can be prepared ahead and served at room temperature. Serves 6.