15 October 2020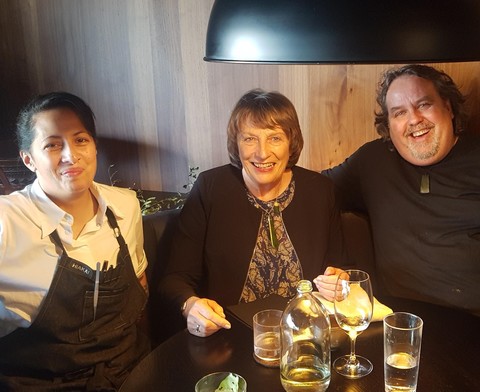 On a whim I booked tickets to a Visa Wellington On A Plate event. I was travelling there to speak at the Farmers' Market conference so this rather special lunch the day before and the amazing Van Gogh on a starry night (well worth the visit) really appealed.
The lunch was at New Zealand's restaurant of the minute, Hiakai. In stunning surroundings our newest food hero, Monique Fiso, is knocking diners out with her amazing use of indigenous ingredients and clever, almost intellectual, approach to cuisine. She wanted to pay tribute to her culinary mentor, the legendary chef Martin Bosley with a collaborative menu that reexamined his daring ground-breaking dishes at his eponymous Martin Bosley's in the Port Nicholson Yacht Club and at Brasserie Flipp. Adding, of course, touches of the food she's developed for Hiakai.
It was an afternoon of memories, excellent food and fun for the thirty guests. As always the menu started with generous snacks. A lovely soft bread roll with Hiakai's already famous tītī butter and a fabulous gin cocktail was followed by clever plays on the Bosley chicken liver parfait, essential just shucked oysters in the shell with salmon roe, a stunning tomato tart, the cleverest rendition of chips and dip ever invented in a kitchen, and meaty rib seasoned with local herbs and spices.
Then came the serious courses. ATOM proved to be asparagus, tomato jelly and a perfect icy sorbet, (somewhat ruined for me by an "orange" wine), then a delicate cedar planked salmon which was always, always, a best seller at MB. Next up the perfect piece of beef that literally melted in my mouth with an accompanying mushroom pie and various sauces to enhance the wonderful Escarpment pinot noir and finally a stunning plate of desserts that included MB jelly, a Milo chocolate bomb from Hiakai and other brilliant treats from the kitchen that were sweet but not sugary.
What was so special apart from the reinterpretation of food memories and the spirited play was to see the respect the Hiakai staff had for Martin Bosley. They all gathered around him at every opportunity and hung on every word of this absolute taonga of a chef. The food was not complex, standing in the great space that lies between then and now. Bosley's avant garde approach to the culinary scene of Aotearoa and his influence on a generation of its chefs has been considerable. It was a total privilege to observe the baton being passed to Fiso whom I have no doubt will be the biggest influence on the next generation.