1 June 2013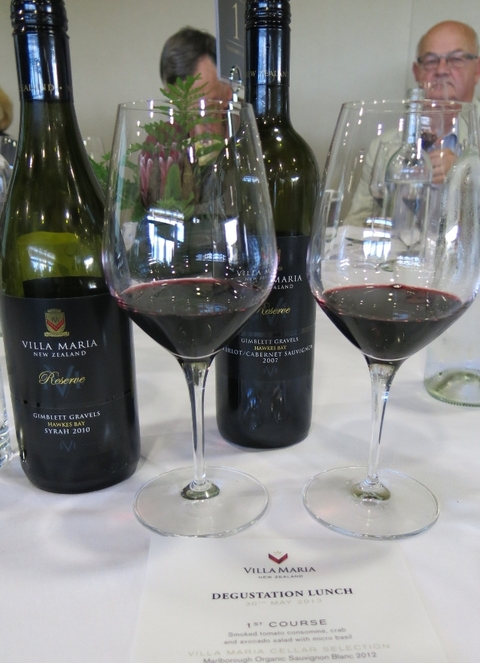 I have seen the future. This past week, over a degustation lunch, the Villa Maria team unveiled their fresh new look for the wine labelling and branding. It is smart, sophisticated and stylish and although updated, it retains much of everything we know and love about this much trusted brand.
We also had a sneaky preview of the early release Villa Maria Sauvignon Blanc from Marlborough. It�s the first 2013 wine I have tasted and it was packed with everything you would expect from this amazing long dry vintage. The wine oozed with tropical flavours, and there was hardly a hint of the grassy greenness we so often experience in sauvignon blanc. So, if this wine is anything to go by, we are in for some amazing treats in the 2013 wines. Of course we will not get to drink many of them this year as wine making processes take time for many of the varietals.
This was very evident in the showcased wines of our lunch. Once again, I gazed into the future. Who would have believed five years ago we would be served locally grown verdelho, viognier, grenache, or even several organically certified wines at lunch? Wine drinkers are apparently seeking something different and as usual, Villa Maria is at the forefront with new styles and varietals.
For the record, the food was superb, especially the first two courses, a warm smoked tomato consomme surrounded a little pile of crab and avocado with micro basil, and then some fresh New Zealand clams in a juicy broth with fine spinach tagliatelle. The first dish shone with the Ihumatao SV organic verdelho 2012 (not for sale yet) and the second dish was served with both cellar selection Hawkes Bay viognier 2011 and Barrique fermented Gisborne chardonnay 2011. I preferred the viognier but must admit the gutsy chardonnay better complemented the clams.
The lunch marched on. Szechuan duck with grenache and pinot noir (the grenache triumphed) and smoked lamb loin with Gimblett Gravels merlot/cab-sav and syrah. The syrah won that round. And to finish an astonishing cake of walnut and tomato with lemon and passionfruit icing. Lots of sweetness on the plate to pair with late harvest riesling and noble botrytis riesling from the Marlborough 2011 vintage. I preferred the freshness of the former wine but happily drank the latter. It was so thick and unctuous, that I pondered why have dessert when you could just sip that gorgeous wine?
As Hawkesby said, Villa Maria have never made a bad wine yet.I am even kinder and say all their wines are well worth drinking.