20 May 2011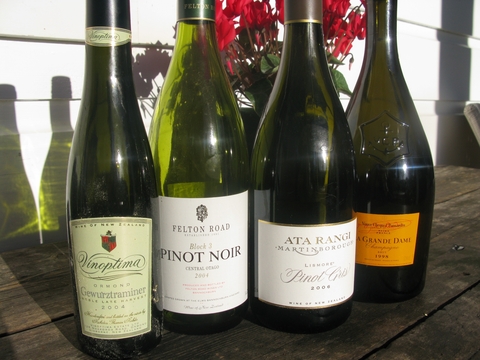 I am attempting to show a little of New Zealand to Madhur Jaffrey who was in the country for the Auckland Writers and Readers Festival last weekend. We flew to Wellington and were driven to Te Horo where Ruth Pretty held a High Tea for her at the Pretty's amazing Springfield property. The kitchen produced a wonderful small feast of spicy snacks. Madhur, eloquent and elegant, is one of the best speakers in the food world, while the legendary Ruth Pretty is one of the best hostesses in the world. A perfect combination.
Later we had a delicious home-cooked intimate dinner in the Pretty's grand kitchen after the event, and Paul Pretty delved into his cellar for some really lovely wines. (see pic above.) In front of the fire we sipped on a glass of Veuve Clicquot "La Grande Dame" 1998, toasty and yeasty and just the right wine to toast our fabulous international guest. Then into the kitchen, and in front of another roaring fire we sat down to perfectly cooked scampi tails which were accompanied by Atarangi pinot gris 2006, made in a dry style with elegance; probably one of the best wines made from this grape I have tried from Martinborough.
Ruth served lamb for our main course; Madhur was delighted as she is keen to taste all the local specialties. Lamb with beetroot was perfectly matched to a very special treat. Otago's Felton Road winery makes wonderful pinot noir wines and select grapes for special areas of their vines for single vineyard bottling. The Block 3 has become one of the cult wines of NZ wine scene and even though the grapes for this wine were picked seven years in the 2004 vintage, it still tasted a fresh as a daisy with wonderful ripe fruity over tones to the elegant nose it is currently displaying.
And to finish with a lovely seasonal fruity dessert, while Paul poured Vinoptima Late Harvest gewürztraminer 2004. I knew about Nick Nobilo's Gisborne foray into his vineyard that only produces gewürztraminer, but this late harvest wine was a first for me. It was sweet without being cloying or with those hard edges gewürztraminer often displays. We could close our eyes and see rose petals just by sniffing it, and it really was a wine to dream on. Thanks Paul and Ruth!