30 June 2011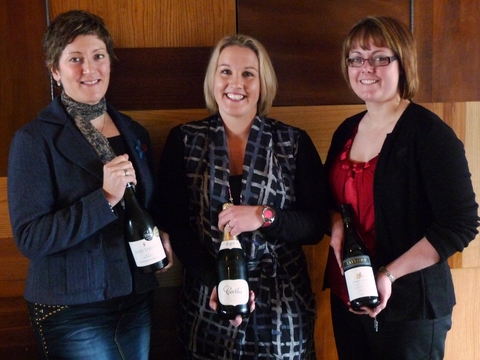 It's a tough call, but a winter lunch with three courses and three winemakers sounded like an attractive proposition. Especially as all the winemakers were women. And it was a lunch of surprises.
The first surprise was the venue. I had been to the Longroom twice and on both occasions had never seen any food, so lunch, with a menu of three choices for each of the three courses, plus a little 'amuse' to start was quite startling. We ate well.
Then more surprises; the three women. Each was charmingly honest and I have been thinking since, that if that had been a lunch with three kiwi male winemakers we would have heard plenty about wine and the nuances of vintages, vinification and wineries. Instead we were treated to stories of how these successful women came to be working in what until recently was a male dominated industry. Refreshing!
Jules Taylor was so carried away with her story she had to be reminded to mention her gorgeous sauvignon blanc, one of my favourites. She took a huge risk moving from a position with a large international wine group to dedicating herself to her own brand. I loved the way she told us it took her 18 months to find the name for her wines - Jules Taylor! She will continue to do well.
Helen McCarthy is from the Barossa and senior winemaker at Taylors. She was offered the job and thought how boring it might be at the time, but is so enthusiastic about the Taylor family now that she can't imagine working elsewhere. Her wine was a surprise; a meaty, savoury pinot noir that had me baffled for a while, but then I had chosen whitebait fritter for that course. Another time I shall take the duck.
Sara Scott from the family owned Allan Scott winenmakers spoke for the very first time ever in a public situation. She had no need to be nervous. This viticulturalist was funny, warm and everybody loved her. Both the sparkling wine to start and her late harvest riesling were very good too!
I can't wait for the next women in wine lunch as the only men in sight were either waiting on us or consigned to the outdoor courtyard. Excellent.
Pic: Jules, Sara and Helen with their wine.