10 June 2014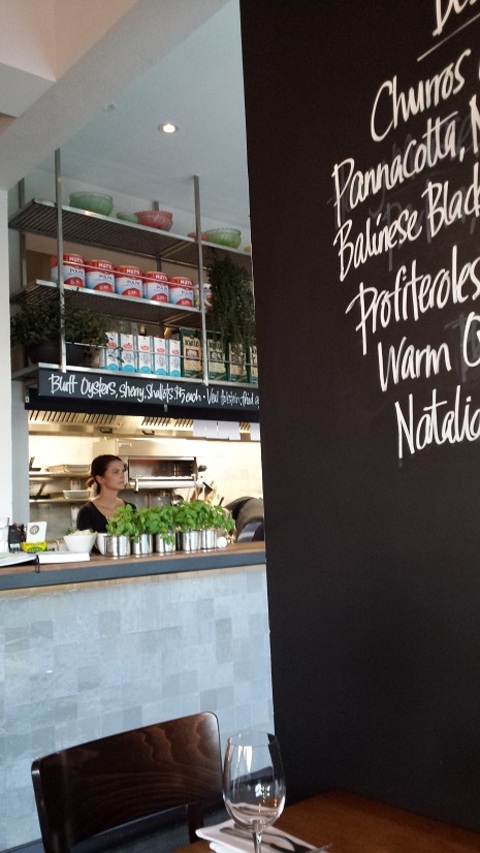 Natalia Schamroth and Carl Koppenhagen scoured the city for months to find a site for their restaurant, The Engine Room. They settled on an old post office building on Auckland's North Shore, in Northcote, and have had continual demand for reservations since the day they opened in 2006.
Eight years on the restaurant retains its place as the leading restaurant on the North Shore, and luckily it's not much more than a stone's throw from the harbour bridge. It's ideal for a five minute trip from Ponsonby as long as you remember to take the extreme left lane crossing the 'coathanger.' Exit at Stafford St, make two left turns and you are ready to enter this informal and bustling eatery, a place where diners feel really comfortable as there's no fuss and no pretension.
Recent alterations, incorporating the eastern side of the building that previously housed offices, now give The Engine Room a respectable bar to meet over a drink before dining or to perch at a stool if you dine alone. Vast windows have been installed with views to the east, with long banquette seating underneath and in daylight hours the sun streams in. (You can get a stunning lunch here on Fridays only.) The former cosiness of one-room dining has been lost a little in the process, but who is complaining when there are more seats, less noise, a larger kitchen, flash new bathrooms and that bar.
You won't find food here that's stitched up or unrecognisably played with, for as Natalia says, it's about damn good honest food, cooked with heart and soul. The owners, both trained chefs, have worked together for many years and continue to travel frequently to draw from European and Asian influences for the inspiration for their menu.
Their menu reeks simplicity with dishes such as veal schnitzel, potato rosti, coleslaw and caper butter, tempura zucchini flowers with artichokes or the perfect steak with maitre d'hotel butter and frites. Reading through the menu, artfully chalked up on a large blackboard, diners might ponder The Engine Room's food is rather reminiscent of good home-cooked food. But plates arrive, and it dawns that there's no way any home cook could inject such flavour, such sophistication to make food this good.
A year or two back The Engine Room Cookbook shared a raft of the best recipes cooked in the restaurant. It has become a classic on the food scene and contains many of the lovely dishes cooked every night. Most of the Engine Room's recipes are traditional cooking with a surprising twist somewhere and the kitchen displays a terrific knowledge of the influences on what is emerging as a modern New Zealand style of cuisine. Don't miss such playful Asian inspired dishes such as the utterly refreshing Thai prawn and watermelon salad, or a meaty, spicy Hoi An chook with coconut rice, papaya salad and tamarind.
That blackboard menu changes regularly, but some dishes, like their untraditional but completely delicious churros con chocolat, the creamy twice- baked goat's cheese soufflé, and a French country terrine with pickled cherries, have proved so popular they have remained since day one. To provide a seamless dining experience, Carl heads the kitchen while Natalia offers diners a warm welcome in front of house. They employ professional waiters who know their stuff and their wines. There are not many restaurants where you can find such treasured labels as Bell Hill, Millton or Pyramid Valley all on the same page. Look around for specials by the glass as this is a great place to check out hard to find wines listed by the glass. There's also an interesting cocktail list, some very good sherry. Another admirable offering is a fine cheese selection limited to may be three or four of the best cheeses available in the city.
The large following from a loyal bunch of regulars is evidence of a successful restaurant that truly cares about its patrons. That's exactly what The Engine Room is all about; delivering a surprisingly good experience that's well ahead of most others in Auckland city, if not the whole country. The Engine Room, 115 Queen St, Northcote Point. Ph 09 480 9502 Open Tues to Sat for dinner, Lunch Fridays only.