6 June 2013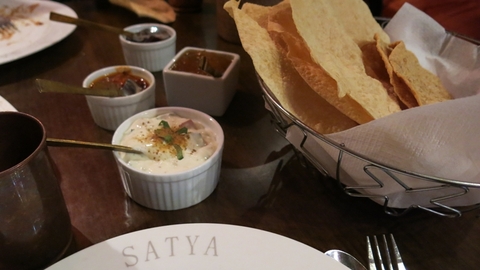 APril 2013
Time flies when you're eating well. Ten years ago I wrote a rave review about the tiny South Indian café, Satya, in Hobson St (for Cuisine.) A decade has passed and I am still enjoying the simple cuisine served up by Swamy and Padmaja Akuthota. A lot has changed in that time. Their café moved from Hobson St to K Rd, and the Akuthotas have opened a string of restaurants and cafés in Sandringham, Mt Eden and Great North Rd around the corner from Ponsonby Rd. And you're reading it here first that there are plans afoot to open a spice store in Ponsonby later this year.
In that first review I wrote, "There's nothing quite like a home cooked meal, with its attendant nurturing flavours. That is exactly what has made Satya such a popular place with those in the know. Owners Swamy and Padmaja hail from Hyderabad in Southern India and are dedicated to cooking authentic food from their homeland. They grind their own spices regularly for their dishes and also import special pastes and ingredients. The dishes are influenced by the owners' Ayurvedic philosophy and are mainly deliciously light and healthy." It's all still true today.
My favourite is the Great North Rd branch. It has a friendly feel with the brick walls and roof of the old shop front restaurant adorned with colourful saris, and the comfortable chairs all backed with bright silk covers. It is constantly busy with an eclectic parade of regulars; couples dining away for a night out away from the kids, groups of bright young things sharing palates and bottles of wine, Southern Indian family groups, and locals who pop in for a quick Thali plate (a inexpensive set selection of curry dish that includes rice and chutney).
The menu is almost bafflingly extensive, and features lots of vegetable choices as the Akuthotas are steadfast vegetarians. Not to be overlooked are the specialties in the lighter entrée section. I couldn't eat at Satya without ordering the dahi puri, crisp little squares with a topping of potato, yogurt, spices and tamarind. These treats are famous but there are several other snacks to share including light-as-air little puffs fiiled with curry and the wonderfully crisp samosas.
Wafer-thin rice and lentil pancakes called iddlies arrive at the table rolled up in an impressive display of kitchen art, served with accompanying condiments of chutney and yogurt. The same delicacies are folded into dosa with carrot and coconut chutney tucked between the layers. Yogurt is an essential ingredient of many Satya dishes; the kitchen staff make their own yogurt, and it's used for sauces, marinades and in many of the curries and dishes.
Diners can choose from a vast range of dry and juicy curries and Southern Indian specialties, including many chicken, prawn and lamb dishes. There's the ubiquitous butter chicken and it's a fine example. Fish and vegetarian dishes are plentiful, and I especially enjoyed a very spicy Apollo yogurt marinated fish enhanced by wonderful smoky flavours. The cubes of fish sat on top of a riot of crunchy raw vegies, but I did think it was a pity this food had been presented on a larger plate. However this is all simple home-style fare and food presentation and styling is hardly the number one attribute of the restaurant. It's all about tasty food.
Indian breads, whether the crisp poppadoms or the flaky paratha and stuffed naan arrive at the table fresh and hot, with accompanying raita and chutneys and make a great starter for large group or while waiting for friends.
The staff are pleasant and helpful but not always particularly highly skilled. In conversations with Swamy Akuthota over the years I have come to recognise he and his family are very humble people and magnanimous in the care and support of others. I asked him once how he finds staff and he told me that when someone comes in seeking a job and they really are in need, he hires them. He is also the only restaurateur I know who opens his restaurant on Christmas Day to the needy and lonely and serves a slap up banquet at no charge. Very, very admirable!
Satya never turns away anyone who brings their own wine in, but there is a wine list. Can you imagine the mentality of the diners I spotted leaving the table, rushing along the road to purchase their own BYO bottle and carrying it in clad in a paper bag. Some people just don't get it! Do try the traditional Indian drinks like lassi, masala tea or south Indian coffee. A meal here is a real treat for those with an adventurous palate and do not be afraid to ask them to go lightly on the spices if you're wary of hot spicy food.
Satya 17 Great North Rd, Ponsonby ph 361 3612, 57 Mt Eden Rd, ph 551 1000, 515 Sandringham Rd and Karangahape Rd. * First published Ponsonby News