26 August 2011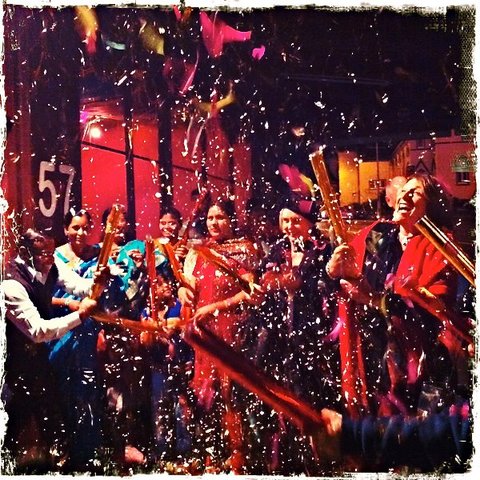 What a privilege. I was asked to cut the ribbon to open Swamy and Padmaja Akuthota's new branch of Satya at 57 Mt Eden Rd last night. First we all set off party poppers to celebrate (that's the picture above, you can make me out next to Susan Buchanan in the hat. William Chen took the pic.) What fun we had.
Then I cut the ribbon and we were treated to an absolutely magnificent feast of delicious chaat (snacks), chutneys, spices, breads, curries and much more. The same menu is available at all four branches of Satya (Great North Rd, K Rd and Sandringham, and now 57 Mt Eden Rd). My absolute favourites are the coconut chutney, the dahi puri snacks, the flaky roti, the tender aubergine curry and their famous Satya butter chicken.
The new restaurant is colourful and comfortable and should be a great joy to those who live in the neighbourhood.
Swamy is modest, honest and the most caring restaurateur in the city. He and his family all share the work, and they are totally delightful. Their wine list is voted on by customers, and they employ reliable and needy students to wait on tables. It's a business model that is worthy of an award. I love this place!
Satya, 57 Mt Eden Rd. T 09 5511000