7 August 2014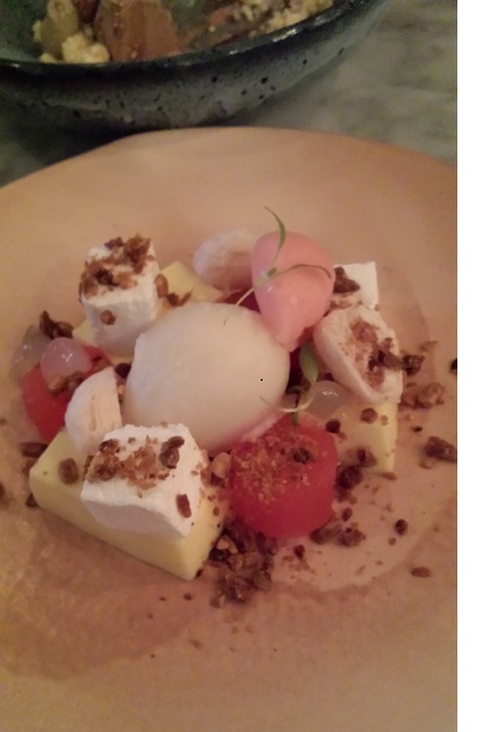 The first clue came with the recently published block-busting book, The Great New Zealand Cookbook. Eighty of our country's best chefs, cooks and bakers are portrayed with recipes, and there on pages 272 and 273, Sid Sahrawat and his little daughter Zoya the 'hospobaby,' are pictured foraging for herbs in a wild field. Turn the page and there's a sumptuous double page spread of a glorious Indian family banquet, followed by more pages of traditional Indian recipes.
Everyone who's a foodie in the Ponsonby area will be proud of the achievements of this likeable and talented chef who has won almost every accolade there is to win on the New Zealand culinary scene including Metro's Chef of the Year and Cuisine's Restaurant of the Year. But we all know him for the elegant and upmarket food he carefully crafts in his local restaurant, Sidart. We wondered whether we would ever get a chance to see him cooking the food he grew up with in India and taste the spicy fare of his childhood in Chandigarh.
Now Sid and his wife Chandni have fulfilled a dream they've had for a while and opened their casual intimate new restaurant, Cassia, in the central city. They are serving a menu of deliciously piquant food to perks up the tastebuds and to show Aucklanders a new style of modern Indian fare not seen in the city before.
Their restaurant is in a basement site in Fort Lane, a far cry from the very first Indian restaurant I ever ate in which was also in a basement, but 12,000 kilometres away in London. That life changing meal, in another century, was a revelation at the time for a Kiwi Lass on the big OE. The fare then was simple but beautifully spiced curries, and I recall taking a 7 pint can of beer to accompany our meal. That meal could not be more different from the stylish dishes that Cassia's menu delivers here and although genuine Indian Kingfisher beer is on tap, there's also a sophisticated list of gin cocktails and a wonderful wine list of labels specially selected to accompany the food.
The dining area is long and low, hung with clever globe lighting, and a long bar with the kitchen beyond allows diners to perch and drink, snack or watch the chefs weave their magic at the stoves. White painted wooden chairs are reminiscent of classic home kitchen furniture and the room buzzes with chatter. Beyond the main area is a colourful overflow room, Holi, with a brightly painted wall depicting the festival of colours the same name, Holi. It has a large dark table for casual seating to sip or nibble. And there's a more formal private dining room to the rear, tucked away from the view of the crowds. It is all very sophisticated and subtly decorated, with the old building's historic brick walls providing sharp contrast.
The kitchen has two tandoor clay ovens, pivotal to creating the flavours Sid Sahrawat and his team coax from the seasonal New Zealand ingredients he likes to work with. Everyone around town with his salt as a chef now has a 'slider' on the menu, and Cassia's version must be up there at the top. Soft brioche buns, lightly curried and flavoured with fennel and sesame seeds are filled with fragrant chicken from the tandoor, a superb kuchumber slaw and finished with fried almonds, lemon juice and yogurt. There are so many layers of flavour that the taste is the stuff of dreams.
Garlic naan and a soft onion kulcha, accompanied by a fresh coriander relish emerge hot from the tandoor, as do many of the meaty dishes and vegetables. This method of cooking provides maximum heat in minimum time and the smokiness gives the food an edge that cannot be replicated any other oven. Mmmm.
Some other gems from the menu not to be missed. A Sahrawat family favourite, Delhi duck is a sumptuous curry with kumara, lychee and tomatoey garlicky, gingery sauce, so good that every drop of sauce will be licked up. Juicy lamb chops with fenugreek, onions two ways – both pickled and fried in rings, is accompanied by an aromatic coconut chutney. Bengali style fish has been marinated before cooked with curry leaves, mustard seeds and coconut cream and served with crispy fried kale leaves. Gasp! Who knew kale was part of the Indian pantry? I am not sure it is but it certainly shows just how in sync Sad is with what's hot and currently vogue-ish on the food scene.
Fish lovers will savour the seared scallops which are jumbo sized and served with foie gras mousse, refreshing apple and mooli, and a stunning rendition of pickled fish spiced with garam masala, chickpeas, tamarind water in a light-as-air buri shell and mint dressing. Spicy dishes to warm the heart of every vegetarian are offered too. Roasted potato and cauliflower with burrata, spinach and cashews is a winner, along with fried eggplant, mushrooms, onion seeds, fresh cow's curd and a generous dose of fresh chilli and mint.
Be sure to leave room for dessert. The cardamom pannacotta with lychee and rosewater sorbets, marshmallow and sunflower seed praline may be the prettiest and most subtly sweet dessert in the city. As for the chocolate kulfi, a smooth icy concoction that comes with banana mousse, date puree, cumin caramel and some astonishing curry notes has to be devoured to be believed.
The prices of these items are all the $13 to $29 range and when the quality of the ingredients and the work that is evident in every dish, Cassia may be the bargain of the Auckland dining scene. Just how he does it I cannot even guess at. But more importantly, Sid has assembled a keen and talented kitchen team that will allow him will continue to cook regularly at Sidart, while Chandni and Matthew Aitchison oversee some excellent service from Cassia's smart team.
I have always said if you want to open a new restaurant in Auckland, it's essential to bring something new and exciting to the food scene. Sid Sahrawat has done exactly that. Don't miss it.
CASSIA, 8 Fort Lane, Auckland City Lunch Wed to Fri, Dinner Tues- Sat. Reservations parties of 8 or more only. Tel; 09 379 9702 www.cassiarestaurant.co.nz