1 March 2014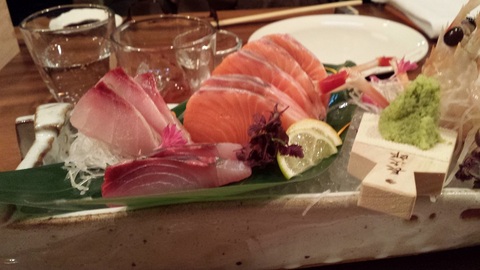 Move over salmon and avocado sushi. The current trend for Japanese food around the city is about to be overtaken by the ancient tradition of the robata grill. It's not new to Auckland - Nishiki in Wellington St, Freeman's Bay and Industrie Zen in the Viaduct Harbour have offered menus featuring robata food for ages. But Masu, the new kid on the Sky City block of eating until you die, takes robata to a whole new level. Prepare to be startled, for Masu not only offers an impressive array of these tasty grilled treats but is set in as dazzling a space as we've ever seen in New Zealand.
Nic Watt, a talented chef who grew up in Auckland, has returned home to head up Masu. He learned his trade at the Park Hyatt in Tokyo, was recalled to New Zealand for a brief stint at Huka Lodge and then spent several more years overseas, in London, as executive chef of the world wide Roka group of restaurants. He is a master of flavour, simplicity and artful design - the major components of Japanese cookery and presentation.
Sky City Grand Hotel has always had a vast space in the foyer that has ached for something useful. For years it was a sort of art gallery with Karl Maughan's bold and vast rhododendron paintings that could be viewed as diners approached the Peter Gordon restaurant before it closed. Now the space has been transformed, enclosed, is constantly busy and very accessible with a bar spilling out onto Federal St and marking the entrance. Inside there's a vast robata grill that is central to the restaurant with swanky seating for dining and casual seating along a counter face to face with the chefs. A the back there's a private room graced by what may be the heaviest wooden table ever constructed.
Robata is a method of cooking derived from the simple idea of Japanese fishermen returning to shore with their catch from the north Japan Sea and immediately grilling fish over live charcoal. Masu, under Nic Watt's direction and with his head chef Darren Johnson, takes this to new heights; terrific dishes involving vegetables, seafood, chicken and meat including wagyu beef are prepared in full view of the diners and the aroma of the sizzling dishes pervades the room.
The show stopper for me is the saiko miso and yuzu marinated black cod. It is everything that there is to love about Japanese food; the freshest fish obtainable, a delicate blend of flavours that are absolutely mouth-watering and careful presentation that is as important as the taste. A leaf wrapped around the fish reveals a glazed and tasty thick fillet of fish within. It is Watt's signature dish, one of many dishes I tried when he first cooked for us in London about six years ago. On that occasion my husband declared that was the best meal he'd ever had in his life and he's continued to say that ever since. (What about my own cooking, Murray?)
The menu is extensive. A vast selection of sashimi is offered according to whichever fresh fish the kitchen can purchase daily. I cannot think of anywhere else in the city you could choose from fatty, semi-fatty or fatty, or yellow fin tuna, along with kingfish, king salmon, snapper, trevally, clam, prawn, scampi or eel. My advice is go for the Chef's selection, or even better try the nigiri selection where the expertly cut fish is draped over a little parcel of sushi rice. There's also a section given over to maki rolls, and my pick of these is the soft shell crab, daikon, cucumber and wasabi roll. To sit at the bar and watch these delicate morsels being prepared is my idea of heaven.
But it doesn't stop there. There's a selection of unusual dishes from the kitchen that include those little dumplings called gyoza, a wonderfully comforting king crab hot pot with wasabi tobiko giving a little subtle crunch, along with lemon and chilli, and some fine tempura dishes that almost float off the plate with their crisp lightness. There's a Masu tasting menu at $88 per person which may sound a bit stiff but is superb value when you consider the quality of the ingredients, the complementary accumulation of tastes and the superb presentation.
To drink, there's a selection of fabulous cocktails, Japanese beer, some superb artisan sakes and a wine list that is loyal to New Zealand producers. Yay! A real feature at the bar is the large block of de-oxygenated ice and the theatre of this ice being sawn into blocks for patrons drinks. For the sweet toothed there's this fabulous almost liquid chocolate dessert that appears in a Japanese pine box and accompanied by a dusting of green tea (sancha) powder.
Heading the front of house team house is the debonair Matthew Aitchison, known to French Café diners. He's a consummate professional and manages to attend to every detail and more. I'm picking this new venture is going to be the jewel in the sparkling crown of Sky City's array of great restaurants.
Masu, Sky City Grand, Federal St, Auckland Open daily for lunch and dinner. Book online at Sky City or call 09 363 6278.