20 December 2015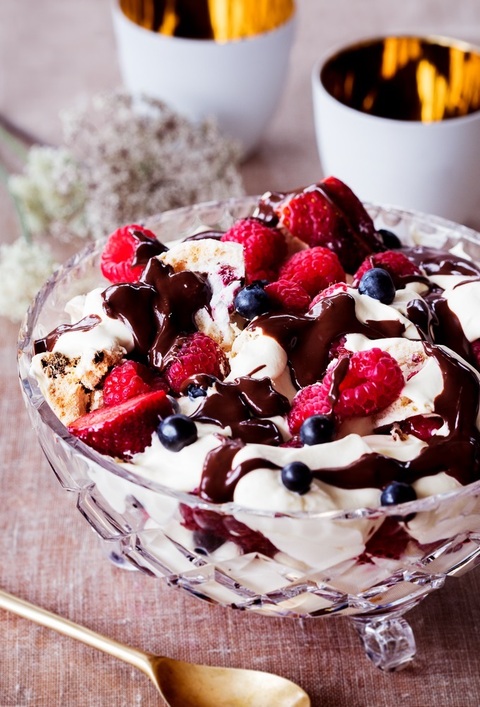 For the meringues: * 4 egg whites * 220g sugar * ½ tsp pure vanilla essence * 40g crushed freeze-dried raspberries (Fresh As brand)
Preheat the oven to 150°C. Line a baking tray with baking paper. Beat the egg whites until stiff with an electric beater and add the sugar a little at a time, continuing to beat. Add the vanilla essence. Remove the beater head and fold in the freeze dried raspberries. Spoon small tablespoons of the meringue mixture onto the baking tray, leaving a gap between each meringue. Bake the meringues or one hour then turn the oven off and leave to cool. Make about 2 dozen and these can be store in an airtight tin for up to a week.
For the chocolate sauce: * 200mls cream * 200g finest quality dark chocolate * 50g soft brown sugar
Take a medium saucepan and half fill with water. Place a large heatproof bowl over this so that it fits snugly with the base just above the water line. Bring the water to the boil and reduce the heat so the water is barely simmering. Place the cream, chocolate and sugar in the bowl. And stir this mixture for about 3 minutes or until chocolate almost melts. Remove the bowl from the heat and continue to stir until all the chocolate melts. You do not want the chocolate to 'seize" or go grainy. Place this chocolate sauce in a clean, dry airtight jar. Will keep in the fridge for 3-4 weeks. Serve at room temperature or reheat very carefully in a small bowl over simmering water.
To finish: * 300mls cream * 300mls Greek style yogurt * 3 punnets mixed berries; raspberries, strawberries and blueberries
Whip the cream until soft but not too stiff and fold in the yogurt into this gently in a very large bowl. Break up about 1 dozen meringues into 2-3 pieces and add to the creamy mixture with most of the berries. Fold very gently so everything is just combined but not swamped. Serve with the remaining berries and a drizzle of the chocolate sauce over the top. Serves 10.
Print • ∞ Permalink • Comments