12 December 2015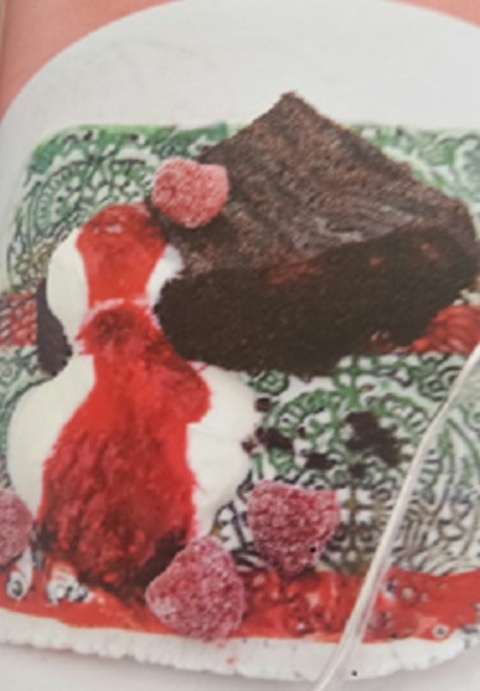 I loved the food in Oregon, and this rich chocolate cake is almost brownie like, reminding me of the superb chocolate shops of Portland and of course the superb berries that state is known for. My mother shared this recipe with me and I've added more raspberries as raspberry and chocolate is one of my all-time best flavour combinations.
400g caster sugar
200g butter
4 eggs, beaten
2 tsps pure vanilla essence
75g cocoa (Valrhona)
100g flour
1 tsp baking powder
1 cup fresh or frozen raspberries
Pre-heat the oven to 170°C. Prepare a 22cm square tin by buttering the sides and base and dusting with flour. Shake off any excess flour.
Cream the butter and sugar together with an electric mixer until soft and fluffy. Add the eggs, a little at a time with the vanilla and beat well. Sift the cocoa, flour and baking powder together, and fold carefully into the mixture.
Turn half the mixture into the prepared tin. Scatter over half the raspberries, and then top with the remaining mixture. Dot the top with raspberries, and place the pan in the oven.
After 45 minutes, check the cake is cooked by poking the middle with a skewer. If it comes out clean and when the cake has started to pull away from the sides of the tin, remove it from the oven.
Turn out onto a rack and when cool, dust the top with icing sugar.
Serve with freshly whipped cream, or a thick Greek style plain yogurt and raspberry sauce made from 1 cup raspberries pureed with 4 tablespoons sugar.
Cuts into at least 12 pieces.
Print • ∞ Permalink • Comments