2 October 2017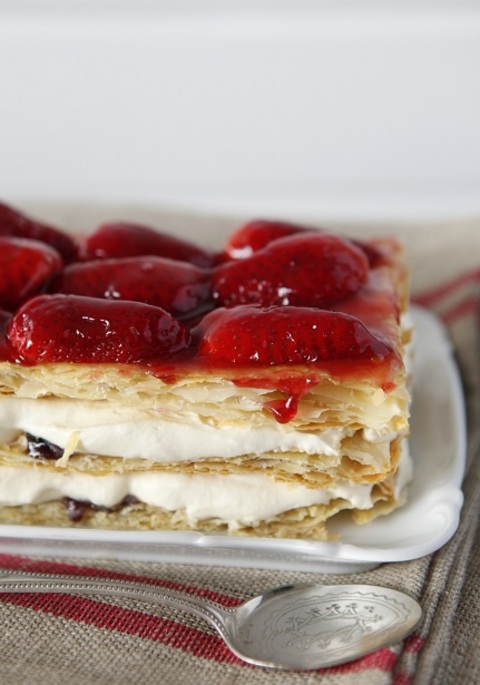 3 sheets best quality butter puff pastry, 30cm x 12cm
300mls cream, whipped
1 punnet strawberries
½ cup redcurrant jelly
½ cup strawberry jam
If using a block of puff pastry roll it out to size, place on baking sheets and allow to rest for 30 minutes before baking. If the pastry is pre-rolled you will not need to do this. Prick the surface of all the pastry with a fork. Pre-heat the oven to 200°C. Bake the pastry until golden and crisp (around 15 minutes.) Set aside.
Whip the cream until it becomes it is lightly stiff. Remove the stalk each strawberry, and slice the fruit in half. Place the redcurrant jelly in a small pan, heating gently until it melts.
To assemble the mille feuille, take a very sharp knife and trim the edge from the pastry strips to make it sharp.
Lay the first strip on a serving platter. Spread several tablespoonfuls of jam on this, top with half the cream. Spread the second pastry sheet with more jam, and place gently on top of the first pastry sheet and cream. Add the remaining cream to this and top with the third pastry sheet.
Lay the halved strawberries on top and with a pastry brush paint the redcurrant glaze over the strawberries. It doesn't matter if a little drizzles down.
To serve cut into slices with a very sharp knife. Serves 6. Wine match: Asti Spumante