21 June 2020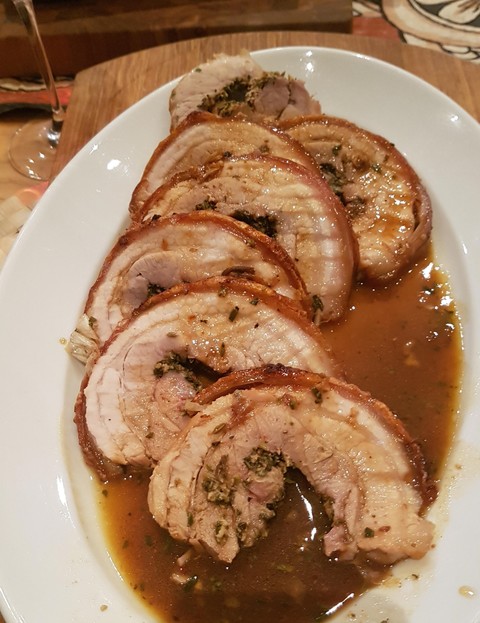 You only need a small serving of this rich delicious meat and there will be lots of leftovers for lunches and other meals. The trick is to try to get a crisp, crunchy crackling on the pork. The anchovies can be left out - just use a little more salt - and any other of your favourite herbs and spices can substitute for the sage, rosemary and chilli.
1.5kg pork belly
2 cloves garlic
1 tsp sea salt
1 tsp freshly ground black pepper
3 tsp fennel seeds
12 anchovies, chopped
8 fresh sage leaves, roughly chopped
1 sprig fresh rosemary leaves
Pinch of chilli flakes
1 lemon, zest only
1 tbsp olive oil
1 red onion 1 cup water
Lay the pork belly skin side up and with a very sharp heavy knife, score the surface in straight lines.
Crush the garlic with the sea salt, place in a bowl and add the fennel seeds and ground pepper, with the sage leaves and chopped anchovies. Mix well together. Add rosemary, lemon zest and olive oil.
Put the fat/skin side down and smother the surface of the meat over the pork. Roll the belly up, and tie it tightly closed with cotton string, making sure the stuffing is not oozing out anywhere. Rub a little extra olive oil and salt and pepper over the rolled pork. You can prepare the recipe to this point and refrigerate until you want to roast it.
Preheat the oven to 200°C. Cut the onion into wedges and sit the pork on top in a shallow roasting pan. This will stop the pork from sticking to the pan and will provide extra flavour for the jus.
Roast for 20 minutes, before covering the pork and reducing the temperature to 150°C. Cover the pork at this point with foil, tip the water into the pan and return the pork to the oven for about two hours to cook.
After this time, you can uncover the pork and pop under the grill to make crackling but watch it carefully as it will burn and blacken quickly.
Remove the pork and keep warm while you make a little jus. Scrape the caramelised onion and residue in the pan with a metal spoon, put the pan over heat and add a little extra water, stirring constantly.
To serve, cut into neat slices, spoons a little jus over and serve with the following fennel or another vegetable of your choice. This pork is also excellent served cold with salads or in sandwiches. Serves 8