23 April 2016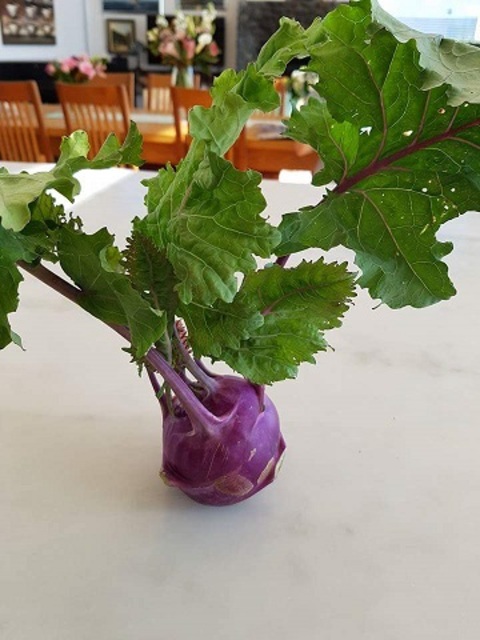 The kohlrabi is an uncommonly eaten vegetable that's versatile and currently in season. A member of the brassica family, the leaves are edible, but the main attraction of this sputnik-like vegetable is the bulb which is in reality, the stem of the plant. It grows comfortably in most climates around New Zealand and when I enquired at my local vegetable store, the owner had no trouble sourcing both pale green and violet coloured varieties.
It is at its best when peeled and cut into thin slices or strips to be served raw in salads or as a snack with a creamy blue or goat cheese dip. Kohlrabi presented like this is sweet and juicy and ideal for children's snacks. A five year old who tried it at my house last week declared it tasted like lettuce, but I think it tastes like a cross between broccoli and cucumber. It can also be grated for tossing into slaws or salads.
Add kohlrabi to stir-fry vegetables, soups and braises. The pieces will require about 10-15 minutes and should remain ever so slightly crisp. The flavour is not strong so a little aromatic spice such as nutmeg, ginger or cumin will boost the taste, and woody herbs like rosemary, sage or thyme pair nicely with kohlrabi.
Store the kohlrabi in the humidity controlled vegetable drawer of the refrigerator and the bulb will last for weeks, although if you plan to cook the leaves use them within a few days of harvesting.
Wild salad of kohlrabi and apple
1 cup walnuts
2 bulbs of kohlrabi
2 apples
½ cup parsley leaves
For the vinaigrette: 1 lemon, juice and grated zest 3 tablespoons walnut oil Salt and freshly ground black pepper
Heat the oven to 170C. Place the walnuts in a roasting pan and bake for 5-7 minutes or until the walnuts just start to colour. Remove at once.
Peel the kohlrabi and slice as thin as possible using a very sharp knife or a mandolin.
Cut the apples into quarters, remove the core and cut into 1cm sized matchstick pieces.
Chop the parsley roughly.
To make the vinaigrette, mix the lemon juice, walnut oil, salt and pepper together so they are well combined.
To assemble the salad, lay the sliced kohlrabi on a flat salad plate. Scatter the apple over this in a layer.
Top with walnuts and parsley and finally drizzle the vinaigrette over everything.
Serve to accompany grilled steak or roast pork.
Serves 4
Wine match: pinot gris
Braised kohlrabi, choko and carrots
1 large choko
2 large kohlrabi bulbs
2 large carrots
¼ cup extra virgin olive oil
1 tbsp ground cumin
2 sprigs of rosemary
Salt and freshly ground black pepper
Mint leaves for garnish
Peel the vegetables and cut into strips about 8cm in length and 2cm wide.
Put the olive oil in a heavy saucepan to heat. When it almost reaches smoking point add the cumin with the vegetables and the leaves of the rosemary and turn the heat down.
Toss everything well together and allow the vegetables to very slowly and gently braise in the oil. Stir occasionally and if the vegetables seem to catch on the edges, add a few spoons of water.
The vegetables will be tender and delicious after about 20-25 minutes. Season with salt and pepper, garnish with fresh mint leaves and serve hot or cold to accompany grilled chicken or grilled fish.
Serves 4
Wine match: chardonnay