26 January 2022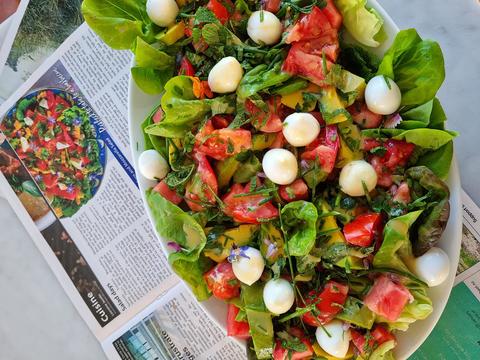 Sweetcorn. Tomatoes. Watermelons. Herbs. There's always an abundance of wonderful fresh from the garden vegetables in the middle of summer that are perfect to serve at any meal and quickly get you out of a hot steamy kitchen.
Salads are the saviour of the season. Easy to whip at a moment's notice they can be made ahead, and popped into the fridge for an hour or two to chill, making for an easy meal. It is essential to find very fresh veggies and leaves for a salad. Of course not all salads are based on green leaves but at this time of year the fresh crispness of lettuce leaves can't be faulted.
I like to make any sort of leafy green as the base for my salads, preferring to lay the well washed and dried leaves out carefully to cover a wide platter, rather than have them disappear into a tangle in a deep bowl. Then whatever is fresh and appetising can be added, carefully placed so there's an even spread of everything to be seen throughout the serving dish. I only ever really "toss" my salads when they are entirely composed of leaves. Spreading out the other delicious ingredients on top means that the best bits don't disappear to the bottom of the bowl or all clump together so one lucky diner scores all the goodies.
A salad like this one is fairly basic but careful thought means you can substitute anything lovely you have in the fridge or in your garden or straight from the orchard. The sweetcorn gives the salad a little substance but you could use thinly sliced and steamed carrots, potatoes or radishes instead. Replace the mozzarella if you wish (it can be expensive and does not last in the fridge for more than three or four days after opening) with feta or a crumbly goat cheese. And rock melon, berries or any stone fruit can be substituted for the watermelon. Just remember to squeeze extra lemon over cut stone fruit so it doesn't turn brown.
As for the salad dressing it is really important it is not too acidic. If you're making your own dressing be absolutely certain to taste it before drizzling over the salad. A pinch of sugar never goes astray, especially when the salad is fruity.
WATERMELON, CORN, TOMATO AND MOZZARELLA SALAD
1 large cob freshly shucked corn * 1 iceberg, romaine or cos lettuce * ¼ watermelon * 6 small ripe tomatoes * 1 ball mozzarella or bocconcini * A handful of freshly picked herbs and herb flowers
Dressing; 1 lemon, juice and zest * 1 tbsp balsamic vinegar * 1 tsp mustard * 3 tbsps olive oil * A small pinch of sugar or ½ tsp honey * Salt and pepper to taste
Shuck the corn and plunge into boiling salted water for 4 to 5 minutes. Allow to cool and gently cut the corn away from the cob. If you can manage to keep some in nice even pieces it will look really good on your salad. Carefully pull the leaves of the lettuce apart and wash thoroughly in cold water. Shake dry in a tea towel so no water remains on the leaves. Lay the leaves as a base over a nice serving plate. Cut the rind from the watermelon and cut the flesh into nice large wedges or fingers at least 5 of the tomatoes into quarters. Drain the cheese and slice it into chunks. Arrange the watermelon over the lettuce leaves, then arrange the corn and tomatoes on the greens. Strew the herbs over the top. Make the dressing by shaking all the dressing ingredients together in a jar and then drizzle this over the salad. Finally decorate with herb flowers. You can make the salad ahead, and cover tightly with plastic wrap and refrigerate it but it is better to add the dressing only half an hour before serving. You can scale up the quantities easily if you have a large crowd. Serve 4-6 with barbecued chicken, fish, lamb or beef or by itself as a light meal.
First published in MAHURANGI MATTERS