23 December 2021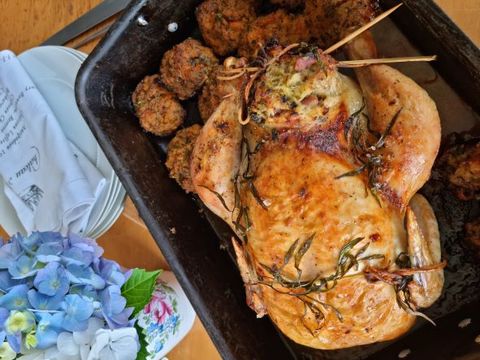 Here are TWO fabulous stuffings for your Christmas chicken and turkey that will enhance flavour and succulence of the bird!
Parsley, sage, rosemary and thyme with apricot stuffing
*2 onions, finely chopped *2 tablespoons butter *3 fresh apricots, chopped into 1cm cubes *Zest and juice of 1 lemon *1 cup fresh wholemeal breadcrumbs
*2 tbsp milk
*3 tbsps chopped parsley *3 tbsps chopped rosemary *3 tbsps chopped fresh sage *3 tbsps chopped fresh thyme *salt and freshly ground black pepper *1 egg, well beaten
Place the onions in a frying pan with the butter and sauté over gentle heat until soft and staring to turn golden brown. Remove to a bowl and cool. Moisten the breadcrumbs with the milk and add in with all the other ingredients to mix well. Allow the stuffing to get completely cold before using it to stuff the bird. Or make stuffing balls to surround the bird.
Oyster and Bacon Stuffing
*4 tablespoons butter *1 fennel bulb, finely chopped *4 rashers bacon, finely chopped *2 thick slices sourdough, chopped into small cubes *200g pottle of oysters, chopped (reserve the juices) *4 tablespoons chopped fresh tarragon *Zest and juice of 1 lemon *salt and freshly ground black pepper
Melt the butter in a frying pan and add the fennel. Fry gently until it is turning golden, then add the bacon. Continue to fry until the bacon starts to get crisp. Remove from the heat, and add the chopped sourdough, oysters and juices, tarragon, lemon zest and juice, salt and pepper. Mix well and, when completely cold, stuff this mixture into the chicken.
TIPS Feel free to make both stuffings if you are roasting turkey this Christmas. The oyster and bacon should go in the cavity at the breast end of the bird and the apricot and herb stuffing in the larger cavity between the legs. For those who don't like oysters, a couple of tasty sausages, skinned and mixed with the bacon and sourdough will make a great alternative. And always, always remember if you are making the stuffing ahead of time, ensure it is quite cold when you stuff it into the bird. Keep the stuffing or raw chicken well refrigerated until it's time to cook it.