20 December 2021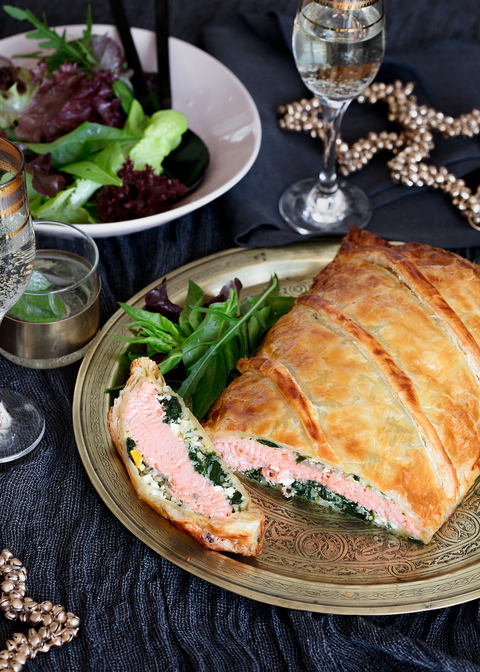 Salmon is always a welcome item on any celebratory menu like Christmas Day lunch. A couple of years ago I went to St Petersburg, only an hour's flight from Stockholm where we had attended a wedding. The city is fascinating, the museums almost overbearing and the food was underwhelming, except in our hotel which had a caviar bar. Needless to say, I just had to indulge a little with a caviar and vodka cocktail platter. For dinner I was served salmon koulibiak, a tasty pie with fresh salmon, rice, egg and spinach. This is my version for Christmas.
1 kg piece of skinned and boned fresh salmon salt and freshly ground black pepper
1 cup cooked long grain rice
500g spinach
3 eggs, hardboiled and shelled
1 cup finely chopped garden herbs (parsley, mint, basil, chives)
500g flaky puff pastry (Paneton pre-rolled)
1 lemon, juice only
1 extra egg for glazing
Skin the salmon and season with salt and pepper. If the piece is not an even oblong shape, cut it into 2 pieces down the middle lengthwise. Set aside.
Wash the spinach carefully to release any dirt, then cook in a small amount of salted water until it wilts. Refresh under cold water; drain and squeeze out thoroughly. This is important as if there is any residue water it will leak out into the pie. Chop very finely and place in a mixing bowl with the cooked rice.
Chop the egg into tiny pieces and add to the spinach and rice with the herbs, salt and pepper and mix well.
Roll out half the pastry into a rectangle about 6cm larger than the salmon, on all sides. Place this on a baking paper-lined baking pan. Spread half the spinach mixture along the centre of the pastry, so that it covers about two-thirds of the area, leaving a strip of about 6cm on all sides.
Place the salmon in the centre, topping and tailing the two pieces so that the shape of the salmon roughly equates to an oblong. Sprinkle over extra salt and pepper with a squeeze of lemon juice.
Carefully spread the remaining spinach and rice mixture over the salmon. Roll out the remaining pastry, and place this on top, sealing the top and bottom of the pastry base together, brushing the edges with the beaten egg, so it will remain closed and form a neat parcel. Use any trimmings to decorate the top. Completely brush the parcel with the remaining beaten egg. Return to the refrigerator for at least half an hour. Bake at 200˚C for about 20 minutes until the pastry is crisp and golden, and the salmon is cooked. Serve warm, cut into neat slices.
Serves 8-10
Wine match: chardonnay or champagne