24 October 2021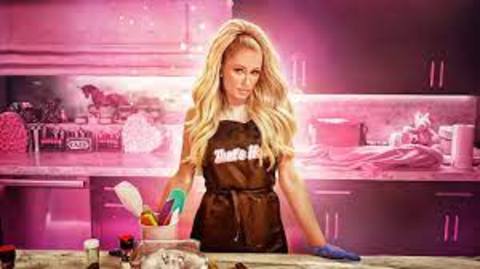 "You know you've reached peak stardom when you're granted a cooking show on Netflix." I stole that line from internet comments posted on the trailer for Cooking With Paris but it's true. I sat through the entire show – SIX (!) 20-minute episodes – and there's no doubt in my mind that days are numbered for any relatively unknown wannabe television cook when the stunningly groomed and totally clueless but clever actress Paris Hilton can score her own show on this hottest of the streaming services
Warning - this is not about real cooking. But it's worth the watch for the absolute spectacle of over-the-top kitchen fantasy, all complemented by pitch-perfect script writing. This show could only ever be made in Hollywood as it is pure theatre and glitz like we've never seen before.
The devil and the fun is in the details. The Clothes! The Bling! The Kitchen! The House! The Views of LA! The Fabulous Grocery Stores! The Party Planner! The Dining Room Decorations! The Immaculate Make-up! The Caviar! The Phones! (Paris has three) The Dippy Little Dogs! And best of all – The Cookbook! That book is worth watching the show for alone – with its cover of glitzy bling and stickers, it contains every recipe, all stolen from the internet and handwritten in coloured felt pens, so it absolutely resembles an eight year girl's Perfect Dream Unicorn Project. I want one!
The shows go like this: Paris shops ("What's a tomatillo," she asks, struggling to pronounce it) then invites a friend over to cook a couple of almost ridiculous recipes - blue sticky marshmallows that go everywhere, couture cookies, a glossy turkey, etc to be served as part of a themed dinner eaten (or picked at) in a lavishly decorated dining room with the most outrageously extravagant embellishments. Her dishes are also suitably adorned with more bling and sparkly stuff like sparklers, diamantes, and more.
I recognised only one guest, Kim Kardashian, not surprisingly for me, as like most of the new elite of Hollywood Paris' mates are all influencers or hip hop artists. Kardashian was a little more down to earth than the others as she has four kids and obviously cooks for them. She knew her way around the kitchen, unlike Paris who gives tips like "This is a whisk!" and "Garnish is my new word" and needs help to find the hood extractor on her own massive stove. I also loved the guest who came over and boasted about her new nose-job. The influencer who joined them for dinner that night said without any trace of emotion in his voice, "You have a new face," as he offered to 'cut' the turkey.
Paris is deadpan funny, getting away with lines like "This sweetened condensed milk is the weirdest milk I have ever seen" and when reading a recipe that includes lemon zest she asks Siri, "What's zest?"
But when her sister Nicky Hilton and mother, Kathy, came over to cook, the food truly picked up and I sat up. Pure extravagance and luxury. Caviar to start. (Caviar is almost a subtheme of this show – even those little dawgs get to eat it and at $380 an ounce it's the real deal. Paris even snacked on it before her vegan guest turned up one night.) Filet mignon. Truffle butter. 23 karat gold leaf. Ranch dressing showered on the accompanying wedge salad, even if the wedges turned into chopped salad when not one of the family had a clue how to cut wedges. Crystals and pearls all over the place. And the most brilliant line of the entire show – Kathy Hilton looks at the food and says, "It would be good to learn how to make it all presentable." Yeah, right!
Note: As an antidote to Paris there are two recent brilliant Netflix shows, each with four episodes. The best is High on the Hog – How African American Cuisine Transformed America inspired by the book by Jessica Harris. And Salt Fat Acid Heat featuring Samin Nosrat exploring these themes of her award winning book is not to be missed. Those shows helped me get through the sad weeks after my Mother had passed away. I highly recommend them.
First published in FoodWritersNZ Digest. Image: Netflix