9 September 2021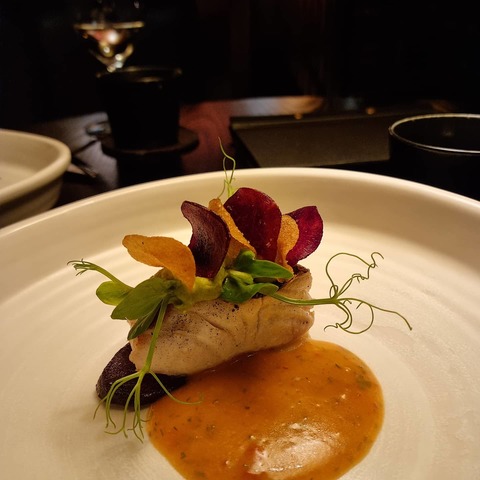 My photo above, shot in pretty dull inside light on Friday 13 August shows a dish, Ika and Kūmarā, which I consider to be as perfect a dish as I have ever eaten in my long life. It's almost a month since I ate at Hiakai. Wretched Covid has caught up with us all, we're in Lockdown again with no takeouts, no cafés or restaurants, and as someone and everyone says to me, I should consider myself lucky to be alive! (Probably the best of my luck is I can cook and know how to order good food on line.)
But it sure is more than just luck is that in the weekend I did go to Wellington before this mess descended upon us, I got to dine at Monique Fiso's amazing Hiakai. It was the third occasion I've eaten there and I am absolutely astonished and delighted just how perfect the Hiakai experience has become.
This talented chef, who has fast developed an international reputation due to her appearances on Netflix and Gordon Ramsay's worldwide series, has refined her focus and pays homage in the most delicate way to the indigenous ingredients of our country, Aotearoa New Zealand. Her food is sophisticated yet approachable and presented with precision. The waitstaff convey the story behind every dish, every ingredient and deliver it with confidence, perfect Te Reo Māori and show due respect for both food and the diners. The kitchen is calm, the pace spot-on and above all every single bite is delicious.
Each menu that Hiakai presents shows not only the evolution of Fiso's cooking and ideas, but it also contributes to the developing story of our food in ways that other chefs only dream about. The current menu concentrates and centres on indigenous ingredients, with each of five courses centred on one of those. The first course, a platter of 'snacks' showcased one of these ingredients (harakeke, horopito, manono bark etc) which made a reappearance in the subsequent courses. Each course an adventure, without flaw and spot-on.
On the menu that evening, Te Whanau Kinaki –the starters, Harakeke - a course of stunning vegetables, Tītī, Cabbage dressed as Mutton) - sublime cabbage and mutton bird, the afore mentioned Ika and Kūmarā – fish and chips with a fermented tomato sauce, Horopito – stunning rare beef with exquisite kale and sauces, and two desserts, Apple and sorbet and Forest Floor – chocolate, with manono sorbet and 'mushroom' meringue.
Perfection! And all matched to either truly interesting wines or innovative non- alcoholic drinks. Bookings may be harder to find than MIQ spots but it is absolutely worth it. I am going to say it here. Currently Hiakai is NZ's absolutely best restaurant! Nga mihi Monique.