28 August 2021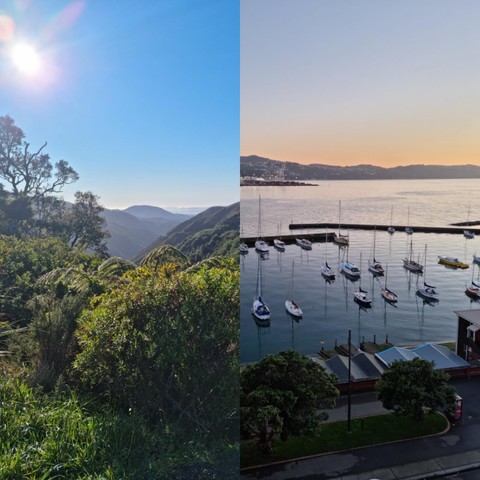 This morning began with a delicious taste of Wellington - the outstanding Fix & Fog Everything Butter on my sourdough toast - and it dawned on me that it's only a mere fourteen days since I spent a brilliant weekend there. It seems a lifetime ago, now we've endured Lockdown for 11 days. I was in Wellington for the NZ Food Writers' conference which also involved a day-long food discovery trip over the Remutakas to Featherston and Martinborough.
The food scene in the capital city and surrounding region was positively buzzing. It was the Big Weekend of Welly's month long food festival, Welly On A Plate, including the extraordinary Beervana. I went to this riotous event and had a startlingly good beer cocktail, made by Bone Face from Upper Hutt and managed unsurprisingly to get my shoes pretty sticky! I also ate at the wondrous Hiakai (more in my next blog) and had dinner at Bellamys in The Beehive which most folk don't understand is run by Logan Brown and public can dine there by reservation. Great food. It's a tragic shame Covid has curbed the boundless enthusiasm and postponed the action of the exciting and well planned WOAP this year, again.
The conference was informative, packed with interest and great food as can be expected when some of the nation's best cooks and foodies assemble, and lots of fun. Breakfast by Le Cordon Bleu cookery students was healthy and tasty, a hearty hāngi lunch cooked by master Māori forager Joe McLeod was a revelation to the intricacies and uses of native flora, and the delicious late morning cocktails we poured ourselves under the guidance of the Aperol Ambassador really hit the spot.
A jaunt next day began, after crossing the Remutakas in brilliant clear weather with a visit to C'est Cheese in Featherston (well recommended), and then on to a little market place set up in the Brackenridge Country Estate to showcase some of the amazing food artisans of the 'Rapa who shared their olive oils, chocolates, honey, mushrooms, cheese? (who knew the 'Rapa had three cheesemakers, sheep, goat and milk respectively and all top notch?) coffee, stunning bread and the award winning Tora Collective who catch and sell seafood including fresh paua.
A chance to reacquaint us with Martinborough's village led to the discovery of Deborah Coddington's excellent and carefully curated bookshop in a back lane and was followed by Adam Newell's delicious locally sourced lunch in the Martinborough Hotel, with fine local wine. And finally a stop at Te Kairanga Estate to have a preview of what is going to be a very fine visitor centre complete with restaurant and cellar door for their portfolio of TK and Martinborough wines and Lighthouse gin. That impressive structure will, I predict, change the face of the local visitor and tourist experience when it opens in 2022.
But amongst all that food, wine and beer, it was the ideas expressed in the morning session of the conference that have left my head buzzing. Sarah Meikle, Festival Director opened the day's proceedings, followed by an erudite panel, expertly chaired by our VP Tash McGill, who faced up to "The Future of Food." You had to be there to inhale and breathe the multitude of ideas and challenges thrown out by the panel. For me it was exciting because two of my absolute top food heroes in the country, Sarah Meikle and Rachel Taulelei (CEO of Wakatū's Kono Food and Beverage Corporation) left me with so much to think about. Both of these fine Wellington wahine truly contribute at the very highest level to the fabric and direction of Aotearoa New Zealand's culinary and cultural scene.
Every 'Future of Food' panellist contributed smart and sassy ideas. Climate change looms big in everyone's minds, as to be expected in a country that has put its faith in growing food. Food safety and security, often side-lined in the past, are paramount as we face stepping up with innovation, diversification, regeneration of our precious soil and water and ensuring that everyone without exception does not go hungry. Change needs to come in the hospitality sector and my hero Rachel added that the Tiriti has us examining ownership of land and water. She emphasised that this constitutional partnership must empower both parties, Māori and everyone else, to meaningfully participate in the economy. Every community must begin like some of the examples shown around the country are doing where the community grows food first and foremost to feed their own before becoming commercial. (Wakatu in Nelson, Ngati Whatua at Te Pourewa gardens, and projects like Maunu Gardens in the Far North.) And wisely Rachel pointed out that we must all recognise everyone who produces food, from large corporations and businesses through to small artisan producers and food gatherers.
Sarah Meikle is the outstanding leader of championing and assisting the regions of our country to tell their food stories, and she delved into the possibilities of using the unique position we're in to elevate the often forgotten quality of our food and the stories of those who produce it. Quoting NZTE's recent survey across six major international markets she identified the key purchase drivers – Tasty, Affordable, Trusted Brand, Safe Products, Healthy, Fresh, Ethical and On Trend. She pointed out that our most significant storytelling challenge is how we build national pride for what we have, what we produce and by whom, and urged us all to discard ideas of which region reigns. Her final words, "Let's all love everything about every part of Aotearoa's food story."