22 December 2019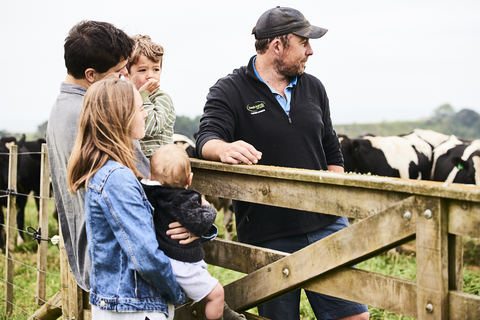 Is meat bad? Is plant-based food good? What's the real story about farming in this country where the economy has traditionally been based on the produce of the agriculture sector for the past 150 years? Can we clean up our act? Are we doing enough to ensure that climate change goals are met while preserving our position in feeding ourselves and still export great food to the world?
Lynda Hallinan-Hinton was the moderator for the second keynote session of Food Writers NZ at our recent annual conference. She'd prepared thoroughly for the topic - Realness in the Farming Sector - having trawled the internet to find the top farming headlines of the past year. With nine out of ten of the stories published in mainstream media taking a negative approach, it appears that Kiwis (the media anyway) have fallen out of love with the rural sector. Our dairy and meat farmers are the current whipping boys rather than the poster boys of Aotearoa's traditional farm-based economy.
Stepping up to share their views on the panel were regenerative Taupo Beef farmers Mike and Sarah Barton, and Auckland based Daniel Eb who is a thoroughly modern thinker from a North Auckland farming family. He has set up a farm oriented communications business, Dirt Road. (In a wry twist these panellists were sporting blue checked shirts – is this the Kiwi Rural uniform?) The session promised so much food for thought.
Of course the real story is not as black and white as many journalists would have us believe, and food writers are under pressure to seek the truth while continuing to write columns, books, recipes and blogs to influence and aid people to seek healthy balanced diets. As our panellists told their stories it was revealed that for the large part our farming story is more than the story of our food. It's about our waterways, the environment, sustainability of our land, animal food production that's efficient and regenerative and more recently, the meat vs vegetable dilemma.
We learned that vegetables too can often cause pollution of our land and waterways (where are those stories?) The discourse needs to be changed to include all sectors of agriculture and horticulture (and even forestry.) Food has traditionally brought us together so why is it dividing us now?
It would seem we all need a greater understanding of food production. The disruption of our age-old traditional ways and stories is key and truly necessary. There needs to be a system of incentives, not punishment and disdain, to make the changes we need. Now.
City dwellers need to appreciate the good farm stories and changing practices (and there are many.) To that end it's worth knowing that Eb's Dirt Road is currently setting up a great initiative 'Open Farms.' This grassroots initiative will reconnect rural and urban Kiwis through a nationwide Open Farm Day on Sunday March 1st 2020. As Eb says, "60% of urban Kiwis don't visit rural New Zealand, farmers are trying to tell their story and too many of us feel separated from our food and the land. Open Farms is about building a place in the middle, where we can all reconnect with a genuine on-farm experience. We need farmers to reach out with us and invite urban New Zealanders back onto the land."
Put it in your diary!
Print • ∞ Permalink • Comments