30 June 2018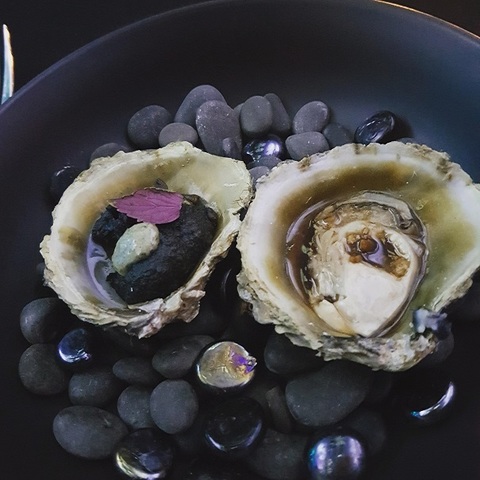 It seemed appropriate as Matariki loomed to accept an invitation from Karena and Kasey Bird to attend their Creation Dinner. This sassy pair of sisters won their way to fame through the Masterchef series, and immediately published a cookbook. I looked through it then, and remember being disappointed that they had not seized the opportunity to turn the heat up on their Māori culture in that book. But they were young, eager and without any culinary experience. Their second book Hungry really impressed me. Two years on they had blossomed and although they still had not really immersed themselves their heritage, they'd tripped around the world, made two television series and were fast developing a unique style.
So this impending dinner was exactly where I wanted to be, to see if they were now where I hoped they would head. And Karena and Kasey did not disappoint. They brought their whole flock of Birds (including Mum and Dad) with them. We arrived at a downtown bar where their younger sister Michaela greeted us. We took a bus to the mystery destination (not an AT bus thank heavens as we'd probably still be in transit.) We headed to the Te Mahurehure Marae near Western Springs and I could see we were in for a treat.
The dinner was based on the Creation story according to Māori lore, and as my husband said, it's a far better religious story than we'd been brought up with. There were perhaps 30 guests seated at a long candlelit table, and a minimal light show displayed the menu on the ceiling above. The deep booming voice of Scotty Morrison explained the steps of that Creation story as each of the seven meticulously developed courses took us from Dark to Light with the central characters being Rangi and Papa. We were served by some beautiful wahine from the Bird's home town of Maketu, Michaela was a great emcee, and some well-chosen and appropriate music quietly played in the background.
Those oysters pictured above were the first course. Te Kore (Dark) was represented by a black garlic vinaigrette on the right and a charcoal tempura batter cloaking the oyster to the left. Te Ra (Light) finished the dinner and the Creation story with a light and bright passionfruit and Heilala vanilla pannacotta. In between there were five courses that featured Wakanui beef, Cloudy Bay clams, Ngati Porou crayfish, an incredible miso glazed Kaipara kumara, Origin South lamb and Premium Game wild pork, and "Roimata" – Maketu kawakawa with sago and apple. All indigenous ingredients, all carefully thought through and beautifully presented and all matched to wonderful Aotearoa wines or non-alcoholic drinks. And even better, their mum had been in the kitchen all day helping and had made the rewena bread. It was superb, like everything else we ate.
I am very proud of these young women and it truly was a privilege to be asked to the dinner. Karena and Kasey are taking this feast and the accompanying story (all food has stories) to other centres around the country. Follow them on their Facebook page to find the dates. You will not regret it, in fact like me you may find it will take your breath away.