13 September 2017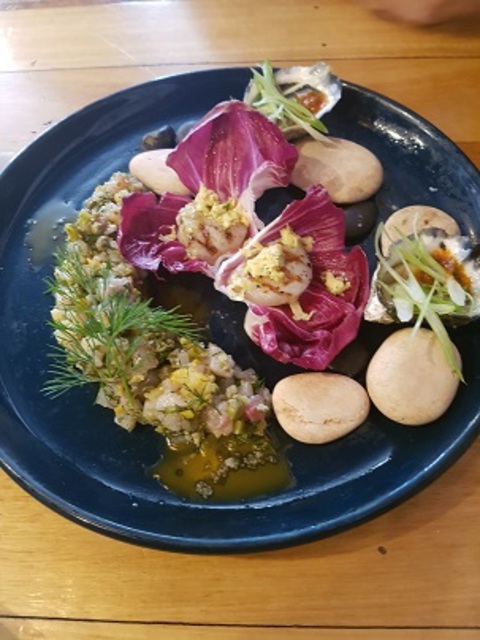 An impromptu trip over the ditch brought a little relief from spring rain and delicious opportunities to check out what Australian restaurateurs were up to. We weren't out to hit high-end places, preferring to check out places that had been on a wish list for a while.
For the birthday boy's celebration, we made a three hour trip to Rick Stein's at Bannisters. The hotel the eponymous restaurant is in is perched on a cliff with great views over the ocean. It is, as expected, a goodie with a seafood predominant menu that pays homage to Rick's international culinary travels. Little scallops in their shells, sweet little mussels, and Indian influences in the fish. The fingerling potatoes, roasted were superb. (Hey, but charging $2 for water in a hotel room that costs $495 a night is a bit steep.)
Next day the spectacular drive from Mollymook Beach to Bowral wound, literally, over a tree clad mountain range with steep gullies and beautiful views at every twist and turn. Kangaroo Valley is simply gorgeous, a small picturesque town in the middle of nowhere.
I'd been curious and eager to eat at Biota Dining in Bowral since acquiring James Viles gorgeous restaurant book two years ago. It is filled with stories of his local suppliers. The dining room, I suspect, is probably stunning at night, but at lunchtime is dark and flat. The food was lovely but no-one took any time to tell us those stories of the ingredients or explain the chef's inspiration. Regardless, we loved the crisp salty school prawns, a sublime albacore and ruby grapefruit dish that tangled with avocado in the hollowed-out fruit, and then we got our fingers and chins mucky devouring a very tasty kingfish head.
And so to Sydney; no need to go into detail. Here are the recommendations after three days of judicious feasting:
• Saint Peter – in a simple Oxford St storefront, young chef/owner Josh Niland is showing Sydney (known forever for its seafood) just how to select, age and cook fish. Sit at a crammed table and eat sardines, tiny anchovies, just shucked icy oysters, or aged hapuka and perfectly cooked red emperor on a bed of buttery succotash, or any and everything else that comes from the sea. But fish and shellfish are only ever served if wild and sustainably caught. Only gripe was the really mean wine pour by the glass. I reckon they get about 15 pours from a bottle. So order a whole bottle!
• Fred's – perfect. Yes perfect. A stunning room with a truly open kitchen, great wine list, and everything we tried was so damned delicious, obviously simple but cooked with thought. The snapper ceviche glowed with delicate marigold petals and herb tips, the lamb was amazing – rack and leg slices and the fish, a tranche of hapuka was perfectly cooked.
• Three Blue Ducks – always worth the trip to Bronte Beach. I have been before but the cooking is up a notch for this blatantly casual neighbourhood café. The special – a seafood plate- with spicy garnished oysters, delicate baked scallops in a radicchio leaf and a lovely marinated raw fish salad (pic above) made a perfect lunch. And we then ate a crisp chicken sandwich. If you go in daylight hours, take a walk around the corner to see the cemetery. It might be the most expensive piece of real estate on any coast given over to bones – you'd be dead lucky to end up in that resting area.
• Sydney Seafood Market – untidy, touristy, expensive but it's not all bad. So much fun to see the many busloads of international visitors tucking into truly gargantuan seafood feasts, and to eat sparkling fresh oysters, delicious prawns and much more.
• Anason – the new area between Darling Harbour and the Bridge is known as Barangaroo and is filled with eating opportunities. This Turkish place serves up incredibly tasty food that's cheap and delicious. The breads and dips (labne with burnt butter and chillies, a rich roasted hummus, etc) were moreish, the octopus oh so tender, the wild greens in filo and a cured salmon salad all lovely. And perfectly acceptable Turkish wine. The apple tea and baklava made perfect partners to end.
• Mr Wong – you can't go wrong with their roast duck. At least 250 large ducks were drying at the back of the kitchen. We had a half portion with pancakes and I can see what the fuss is about. Deliciously crisp skin, flavourful duck. Also the dim sum are classy – try the crab and bamboo shoot crystal prawn dumplings in golden soup. It was the ultimate comfort food for the finale in this stunning magical place.
Print • ∞ Permalink • Comments