2 August 2017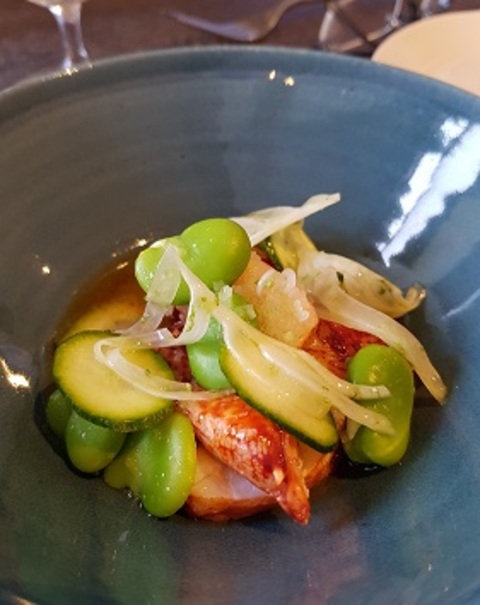 It's an interesting drive from Dartmouth to the Cornwall coast. A famous Brunel bridge to pass by, numerous roundabouts that were supposed to ease the traffic but cause all sorts of mayhem and two mile back-ups, and the opportunity to drive the narrow country lanes to visit the famous Lost Gardens of Heligan. All in the rain, but not-to-be-missed. The New Zealand Walk in the gardens was beautiful, the vegetable patch just taking off and the café really good, despite the busloads of school-kids on end of term treats.
Fowey, pronounced Foy, our destination thankfully had an excellent dentist to fix a tooth that had been dislodged, threatening to make my life miserable. The little town is ancient, so old that there's barely room for a car to drive along the narrow lane behind the houses and businesses that look over the port. The Old Quay Inn where we were booked sat amongst crooked old houses, but was comfortable and welcoming. Our dinner was perfect, the work of chef Richard Massey who has a light modern touch. We ate it looking over the harbour, spending a restful evening after a long walk around the cliff tops, and savoured local fish, stunning crab entree and crisp skinned fresh halibut with seasonal asparagus, peas and a wonderful cod croquette with some good Chablis wine.
Next day we headed to Falmouth, a much bigger town, but perched on the river mouth with acres and acres of small boats tethered in the slipstream. The Greenbank Hotel is a gem, an old fashioned place with up-and-down corridors that run for miles and loads of history. It's well positioned but it's advisable to book one of the new rooms that are spacious, modern, well lit and gaze over the river. We couldn't get in to the two recommended restaurants of Falmouth, Olivers and the Wheelhouse – neither take bookings on line - but the hotel restaurant served us well, and once again we had a lovely table overlooking the water with an adjacent lively bar for a pre-dinner cocktail. Early next morning we hiked off to town to join a roomful of Englishmen who had no appreciation of my applause when the All Blacks scored. Luckily for them, the Lions won. Grrr.
The drive to Padstow took us away from the coast on some major roads, and we happily ignored the know-it-all GPS commentary advising us to take little country lanes. Those lanes are so narrow that often you have to back up if a car comes from the opposite direction. Stressful! Padstow is probably the most touristy-overrun town in the South West. I adore Rick Stein but a quick fish and chips from his takeaway was quite enough for me and we were quickly out of there, headed to Port Isaac, about 30 minutes away.
Port Isaac is miniscule, with a brutal harbour entrance and is most famous for the TV series, Doc Martin, still filmed there. Accommodation is sparse (stay at The Old School House) but the real star attraction for me was Restaurant Nathan Outlaw. The meal there, a five course seafood degustation priced at £125, was a real sensation of freshly caught fish and seafood, expertly cooked and garnished and not a jot of pretension. Outlaw, a thoroughly hospitable and personable yet shy man, who might easily double as a Lions front row thug, is the master of beautiful simplicity in the kitchen, as he cleverly matches expertly cooked seafood to seasonal ingredients.
The lobster! The lobster! The lobster! The best I have ever had in my life. Sweet succulent and cooked so that is was still juicy and moist, and garnished with fresh broad beans, thinly sliced fennel and courgettes in a little buttery jus. That's it above and we could actually see the lobster pots bobbing about in the choppy coastal sea below the restaurant. It does not get much fresher or better than this. Truly the best meal of my entire trip.
Print • ∞ Permalink • Comments