14 July 2017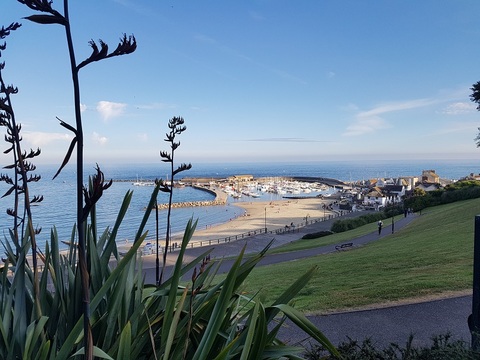 A trip to the southwest of England to seek local seafood in late June, early July, before British School hols was a great time to beat the crowds and traffic. We flew into Gatwick to rent a car with GPS (absolutely essential if you want to drive away from the main routes) and three hours later arrived at Lyme Regis. Accommodation was booked for this two week trip, along with most of our dinners, as even at this time of the year, there's huge pressure on good hotels and excellent restaurants in sleepy Devon and Cornwall.
Our first night was spent at Lyme Regis' Alexandra Hotel, a comfortable old English establishment where you imagine they could easily have filmed Fawlty Towers, although the efficient friendly staff were a far cry from the enigmatic, awkward Basil and Sybil. We had great ocean views as the hotel sits close to the cliff top with a grand carefully mown lawn reaching out to the waterfront garden park. It was only a ten minute walk to Hix Oyster Shack for dinner where we were in heaven. The fishy menu is great – freshest of oysters, local fish and shellfish, all overseen by one of Britain's hero chefs, Mark Hix. The view from the deck is even better to the charming little port (see pic above.) Briny oysters, sparkling fresh cod with cockles, lemon sole and a stunningly simple local tomato salad and interesting wines like gruner veltliner and vino verde set us up for the journey ahead.
Next day to Dartmouth, a beautiful town clinging to the bank of the River Dart and a centre for seafaring, as the Britannia Royal Naval College towers over the town and numerous yachts, boats and vessels ply the river mouth. Apparently two cruise ships call into the port each year and as luck (or not) would have it one was anchored smack bang in the midst of the moored boats the very day we arrived. The town was filled for the afternoon with cruise passengers, shuffling around and scoffing the food specialities of the region – rich creamy fudge, battered cod and chips, Devon cream teas and stacks of Cornish pasties. When I was young a traditional Cornish pasty was a thing of wonder with its crusty crimped pastry and filling of chunky vegetables but latterly it has transmogrified into such weird emanations as Balti lamb pasty or the ubiquitous Butter Chicken pasty.
Dartmouth is also famous for its steam railway excursions. I'm not quite sure just why British men are so fond of the railway – maybe it harks back to those metal die-cast models they grew up with that chugged around model railway tracks set up in their bedrooms. There's probably no hope for the next generation either, due to their preoccupation with Thomas the Tank Engine. Anyway I'm married to an engineer so on our second day we headed off on a return journey on a gleaming steam engine, powered by coal, along railway lines that clung to the coast. The guy responsible for all this is the esoterically and lyrically named Isamabard Kingdom Brunel who masterminded many railways, bridges and other feats of nineteenth century engineering. Brunel become a fascination on our journey as he was a brilliant and prolific engineer with works throughout the south west.
If you get to Dartmouth, stay at the Dart Marina Hotel. The new rooms are lovely, - spacious and modern, which seemed almost revolutionary in this old town and across the river you will spot the steam train tooting along every hour, saving you from taking the trip along with half the kids from the local primary schools, like we did. And you can eat the arguably best kipper in the whole of the country for breakfast.
Dartmouth is home to the centre of Mitch Tonks' empire. We ate at his signature restaurant Seahorse. It was one of those lovely old fashioned dining rooms with a lengthy expensive wine list and masses of freshly caught fish. He specialises in cooking over fire and the roasted scallops in the shell were sweet and tasty, the marinated halibut was citrusy and our woodfired roasted fish main courses, perfect. The next evening we chose to eat Mitch's fish again but this time at Rockfish, one of a chain he has introduced. We ate a substantial crab cocktail followed by more lovely roasted fish at half the price (and half the refinement) of the previous evening. At Seahorse we'd enjoyed the company of a couple at the neighbouring table. The chatter was erudite, discussing politics, art, property, economics and everything else. The next evening we loved the old birds at the next table who told us they had "left the husbands behind as they don't like fish" as they tucked into a feast of huge crab each, licking their fingers clean. "Tomorrow night," they boasted, "we're going to eat with our men at one of the oldest pubs here. We can have steak and a bottle of red wine each for twenty quid!"
Print • ∞ Permalink • Comments