29 June 2017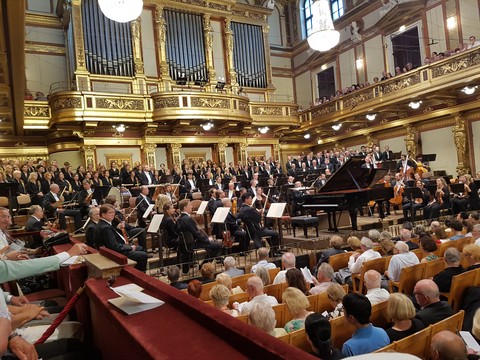 Despite the 35C temperature in the shade (!) I fell in love with Vienna. Not the food, as it hadn't changed much since I last visited this glorious city in the 70s.
What I truly loved was the elegance, the cleanliness, the magnificence of everything inside the Ringstrasse and the transport options around the city. A stunning tram system, clearly marked cycle ways on every street, and the central area of the city cleared of traffic and devoted to those who choose to walk.
Do not miss the Sisi Palace with its royal collection of silver and gold, and dedication to Empress Elizabeth who was a unique spirit and feminist. Or the Secession building with its Beethovenfries created by the city's artistic star Gustav Klimt. Or the collection of Klimt paintings including The Kiss, in the wonderful Belevedere Palace. Or the Kunthistoriche Museum and St Stephens church in the centre of town. Take the Ringstrasse tram for its entire route and wonder at the impressive buildings enroute.
For eating go to one of the traditional old cafes, despite the tourists, such as Cafe Central or Cafe Sperl, where the food is almost as old as the decor but a little dowdiness goes a long way to capture the spirit of the 19th century. And eat a healthy lunch behind St Stephens at Miznon, an outpost of the famous Israeli cafes, where it's self-ordering but the Roasted Golden Cauliflower is not to be missed. Take an afternoon break in the luxury of the Palais Hansen Kempinski Hotel lobby and eat the best apple strudel in town. Take a taxi out to the vineyards for dinner at one of the famed Heurige restaurants where you can drink local gruner veltliner with your roast chicken or schnitzel and listen to corny live music. And make a reservation at Freyenstein in Thimiggasse for a very delicious set menu meal that is worth the taxi fare.
And finally the best. Music. Search for one of the concerts that Vienna is famous for. If you haven't booked before you leave home, the concierge at your hotel may land you, at a price, the best seats in the house for a concert in the Musikverein Golden Hall. We did this and it was the BEST concert I have ever been to. Vienna Symphony Orchestra and a 120 strong choir playing Beethoven's Ninth. A true life- changing experience.
Print • ∞ Permalink • Comments