7 April 2011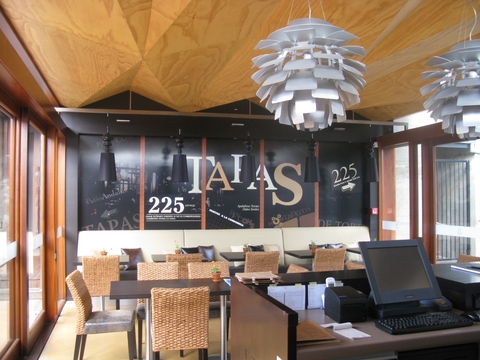 There's a new place to eat in town that's hot. Serafin Bueno Sanz, the talented Spanish chef who presided over the kitchen of The Regent Auckland hotel back in the 80s has returned to our shores and opened an utterly sophisticated Tapas, Montaditos and Pinchos bar.
It has been purpose built, tucked in behind the building at the junction of Dominion Rd and Walters Rd in Mt Eden. The design is stunning; the pale wooden ceiling formed in a concertina effect reflects light, and there are lovely overhead lights hanging so you can actually see the food and the freinds you're relaxing with. There's even an internal courtyard that's reminiscent of the clever space at Matterhorn in Wellington, the likes of which we haven't seen in Auckland before.
We went the other night to a private opening celebration and I was delighted by the tasty morsels that emerged in a steady stream from the kitchen. My favourites? The bellotta ham on lovely fresh crusty bread, potatoes smothered in a garlicky uncutous sauce, and a tiny bowl of tasty lentils topped with a slice of perfectly cooked duck.
We were served Spanish albarino wine as this was a private party. Unfortunately Serafin has not received his licence to sell wine yet as one couple in the neighbourhood has lodged an objection, which won't be heard in Wellington until May 19. Why they would object defies me, as this is exactly the sort of friendly little tapas bar that most neighbourhoods in New Zealand would kill for.
It also brings up the point of mindless legislation that kills creativity, business and common sense. About a pebble's throw away there is a large noisy bar that seems to me to be a watering hole where Eden Park goers often linger before and after games at the ground knocking back bottles and bottles of beer while standin gon the pavement and even spilling out into the road. Here we have a quiet, shy European of enormous talent who cannot get ahead with his business that is raring to go, and in the process wil be improving our culture by introducing sophisticated snacks to enjoy over a glass of wine.
And what's wrong with the Auckland Council that they have to hand the hearing over to some authority in faraway Wellington? Go figure.
Serafin. 225B Dominion Rd, Mt Eden T; 09 630 0228