17 March 2023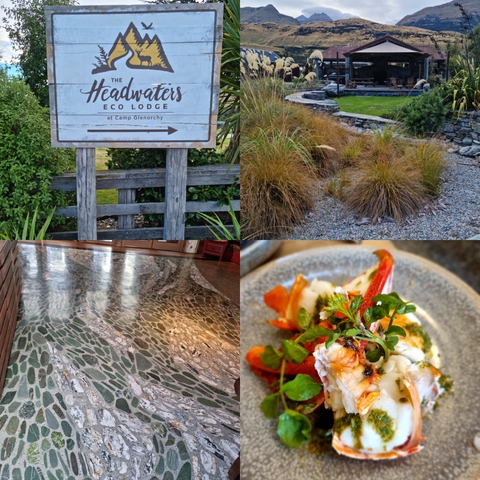 It would be easy to drive past the Headwaters Eco Lodge in Glenorchy and dismiss it as another quirky accommodation offering, with its rustic wooden chalets visible from the main road in this beautiful end-of-the-earth spot. The little town is famous mostly as the jumping off point of the famous Routeburn Walking Track, or to board a Dart River Jetboat to experience all the thrills of adventure tourism. But this lodge is exceptional in every way, an example of an eco-friendly destination that New Zealand accommodation operators should all aspire to create and run.
Paul and Debbi Brainerd, American tech philanthropists, bought the very run down campground in Glenorchy and have fashioned it into a beautiful lodge, now named Headwaters Eco Lodge where the hospitality is warm, welcoming and uniquely comfortable. It's the first-ever accommodation facility designed and certified according to the Living Building Challenge and was recently awarded world's first ILFI Certification of Sustainability for Visitor Accommodations which is a rigorous sustainability standard globally - created in collaboration with the local community, national and international experts including many artists, craftspeople, and energy management specialists.
Debbi's passion is evident everywhere - repurposed and recycled materials fashioned into stunning almost artwork-like rooms and walls, solar powered buildings, seemingly simple gardens with native plantings (including a close by very impressive kitchen garden) and the ultimate in composting toilets that treat users to a breezy but brilliant experience. The stonework on the floors and paths represents the flow of the rivers of the headwaters of Lake Wakatipu and alone are worth the 45 minute drive from Queenstown to view. It's ideal for anyone wanting to get away, to rest, or with accommodation options for up to fifty guests, the perfect spot for a corporate retreat as far as you can get from the complexity of any city, with lots of activity options too.
And there's more, with their love of the local community, this generous pair of founders have set up the Glenorchy Community Trust, administered entirely by local trustees, to benefit from company profits. The Trust's mission is to give back and increase the vibrancy and resilience of the town and its people. And it does.
Recently the lodge kitchen, which was functional and originally set up for self- catering in true camp style, has been upgraded with top class cooking equipment and Arrowtown's legendary chef Pete Gawron (ex Saffron) heads the kitchen, making way for his excellent and enthusiastic dinners and breakfasts,. The theme of recycling continues for the crockery is all vintage Crown Lynn, acquired by the effervescent owner Debbi Brainerd who oversees everything that is so utterly tasteful about the lodge. Dinner might be cooked to a theme, but everything is delicious and where possible is sourced locally (Royalburn lamb from Nadia Lim's Farm –mouthwatering) and harvested from the year round lodge garden.
Next door the property boasts the eccentric Mrs Woolly's country store which maybe the most tastefully stocked rural store in the country, with a kitchen to match, producing the hearty sort of food any traveller craves through the day.
It is a very special experience and my question and challenge is this: Here we have exactly the blueprint for an exemplary and very special New Zealand experience. Can we have more of these please? How lucky we are to have such amazing American benefactors invest in our beautiful country for the benefit of everyone.