24 May 2022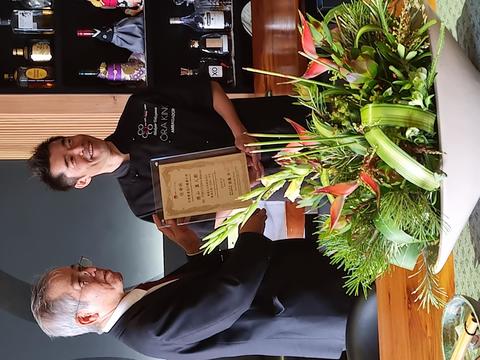 Is Makoto Tokuyama of the well regarded Cocoro (Three Hats in Cuisine Magazine's Good Food Awards, every single time) New Zealand's best chef? I am bold enough to say so, and there are many food lovers who have eaten in his restaurant who then declare it the best meal they have ever had. His Japanese cuisine, traditional, but always created with the best of New Zealand's top seasonal ingredients has been a revelation to many diners.
He's a Lifetime Ambassador for Ora King Salmon, a popular guy amongst his peers for his quirky sense of fun and expert skills with fresh fish, and now Makoto-san has been appointed a Goodwill Ambassador for Japanese Cuisine – an absolutely top honour for a Japanese Chef working outside Japan. Yesterday I was really honoured to be invited to an intimate ceremony at Cocoro in Brown St, Ponsonby where Japanese Ambassador Extraordinary and Plenipotentiary, Ito Koichi, presented him with the official certificate and designation.
The Japanese Ambassador spoke about how early in his career he knew that Japanese cuisine, an inherent part of his country's culture, was still to be discovered in many parts of the world. In 2013 UNESCO recognised the importance of Japan's Washoku, for the Intangible Cultural Heritage, and there is no doubt that the seasonal, and other aspects of the cuisine play an important role in social solidarity and are now acclaimed worldwide.
Makoto-san has led the way in New Zealand, coming here more than twenty years ago and produces food that has deep roots in his traditional food culture. Every single bite on the plates he and his team prepare are a showcase for both Japan and New Zealand's finest fare. Congratulations to both the Japanese Government representatives for this Award and to Chef Makoto for being so very deserving. It was a privilege to attend.
(But there's more! Chef Makoto has partnered recently with Jason Lee, a chef he worked with at Rikka restaurant when he came to NZ 20 years ago, to open a new venture, WakuWaku, where their concept is 'Old Value, Modern Japanese' style set in a stunning and stylish new restaurant in the heart of Remuera. Exciting times for Japanese cuisine in Auckland.)