17 September 2021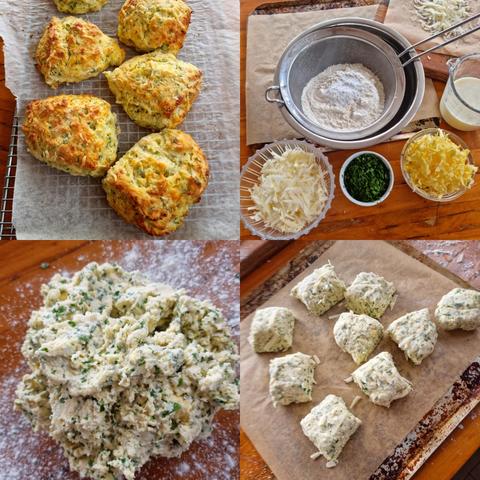 These scones need light hands! They're sure to be a hit with all ages and can be whipped up from start to finish in under half an hour. I have given you the recipe first and then lots of tips and extra information to make a perfect batch every time.
Preheat the oven to 200°C. Sift 2 generous cups flour into a bowl with 2 teaspoons baking powder and 1 teaspoon salt. Grate 100g cold butter and rub this in with your finger-tips, moving your wrists up and down so the flour falls back into the bowl.
Grate 100g cheese and stir this in with a heap of freshly chopped parsley and sage from the garden. Pour in 1 generous cup full cream milk or buttermilk and use a fork to bring the mixture together. Dust the bench lightly with more flour, tip out the sticky mixture and pat it out to a thickness of 5cm. Cut the dough into 8 to 9 pieces, top with a little extra grated cheese and place on baking paper on a flat oven tray. Bake for 12 to 15 minutes until golden and crisp. Best eaten with lashings more butter while still warm.
NOTES and TIPS
• Salted butter is best and 'rubbing' it in means taking the flour and butter in your finger tips and very gently squeezing it so the butter absorbs into the flour. By lifting your hands out of the bowl you aerate the flour for lighter scones.
• Use your favourite cheese but try to find cheese that's full of flavour. I like Gran Padano and never in a month of Sundays would use that pre-grated packaged cheese. Leave that for the kids to make playdough!
• Fresh herbs are always best and right now spring sage is just wonderful. If you are tempted to use dried herbs this is the only place in the recipe where you should be frugal.
• My favourite milk (Durham Farms organic Jersey milk) comes in big bottles and is often near or has passed the Use by Date but that is absolutely perfect for scones as it adds a savoury tang.
• When adding milk use your judgement. You really want a pretty wet sticky mixture so if it's looking a bit dry and not coming together easily, add extra milk around the edges of the dough and draw that in.
• Don't be afraid to add a little paprika or some chilli flakes for extra bite but the kids won't be pleased.
• And if you're like my husband you can slather jam on the warm scones as cheese and jam are a great combo.
• Enjoy!