21 June 2020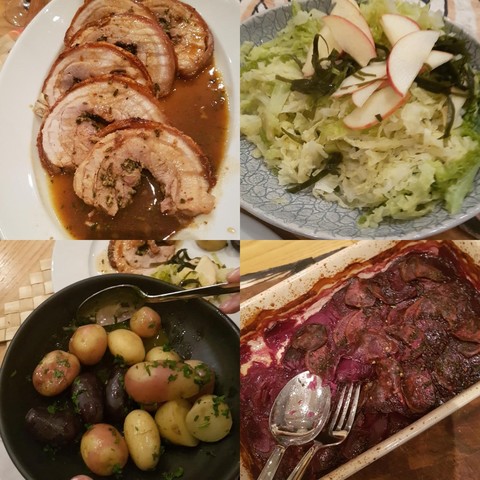 Today is the turning point of the year. We will have a mere nine hours and forty one minutes of light today, and the longest period of darkness and chilly cold weather. We begin the celebrations of Matariki and to mark this I invited good friends over to share in a festive dinner with top notch New Zealand produce.
It's a little in advance, as the first day of the month-long observance, when the first crescent moon appears after the reappearance and rising of the cluster of stars known as Matariki (Pleiades) will officially fall in July. However here in Tāmaki Makarau, the city is hosting events from today.
There are seven stars in the Matariki constellation, and Māori foragers, farmers and food gatherers throughout the country will carefully observe the brightest of these to reset the Maori calendar, shaping food customs, planting and fishing and hunting for the coming year. The most important stars are Tupuārangi, signifying food from the sky, Waitī, fresh water, Tupuānuku, food grown in the earth and Waitā, the harvest of the coast and ocean.
I looked back through my old Listener food columns that had been dedicated to this important date on the Māori calendar. My favourite was written after I'd attended a fundraising Matariki dinner in Martinborough at the Hau Ariki Marae.
I wrote, "The members of Ngati Kahungungu welcomed us onto the marae; a tidy, sprawling complex bordered by fields of vines on two sides. Before our dinner we were entertained by school children singing lustily and assisting their elders in the traditions and performance of heartfelt hospitality.
The feast was held in the adjoining Nga Waka a Kupe dining hall where tables were beautifully set, speeches were interesting and brief and there was lively music. I expected a hangi-style feast but the meal was sophisticated and tasty, prepared by three jolly cooks in the modern kitchen. The starter of smoked eel, shrimps with an eggy mayonnaise, and a small bowl of creamed paua was accompanied by a light puffy ball of deep fried Maori bread. Roast pork complete with crunchy crackling and roast vegetables followed, all washed down with some fine local Martinborough pinot noir and syrah. Nga mihi."
In other columns I drew inspiration from the young queens of Māori cuisine, Kasey and Karena Bird, and the undisputed leader of inspired restaurant fare, Monique Fiso. The refinement of Māori cuisine and the use of indigenous and unique New Zealand ingredients over the past five years has been the most important development I've witnessed in my food writing career. Believe me, it will continue to influence the food we eat over the next decade as talented chefs like Vaughan Mabee at Amisfield, Ben Bayly at his new venture Ahi and many others showcase the best of our amazing local food.
So for our dinner last night we feasted on local oysters and of course, since we live in Kutai Lane, delicious greenshell mussels to start. Then we had the most delicious organic NZ farmed pork, cooked porchetta style (recipe in the Recipe section of this website) and a kumara bake, steamed potatoes and cabbage lightly cooked in stock and served with wakame and apples. And to finish, a fresh seasonal fruit salad made with winter fruit from the local farmstands around here, with delicious New Zealand creamy grass fed yogurt.
"He kai kei aku ringa"- There is food at the end of my hands (Māori Proverb)