13 May 2020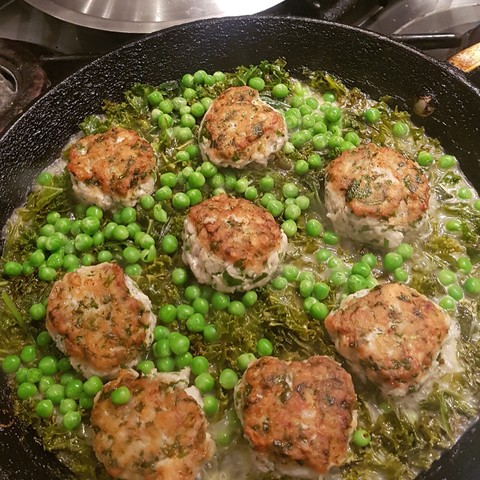 It's not often that a cookbook moves me to tears. A couple of weeks before lockdown I was sent a review copy of 'Falastin', Sami Tamimi and Tara Wigley's enchanting collection of modern recipes from Palestine. The recipes are wonderfully aromatic, fresh and savoury, inspired by Sami's lifelong obsession with contemporary Middle Eastern cooking (he was raised in Eastern Palestine, cooked with Ottolenghi and co-authored Jerusalem ) and Tara's adventures in the Ottolenghi London kitchens and travels to the region. But it was the stories placed throughout the book that made me pretty emotional.
Those stories are moving, transporting me to the heart of modern Palestine while subtly and sensitively describing the troubled day to day life there. But they also rejoice and celebrate the way that the people cook both at home and in restaurants often under extreme difficulty, and explore the connection to each other and the world through colourful and often spicy food.
I have been inspired to cook several lovely fragrant dishes, despite many of the ingredients being out of reach in this rural area. So I often turn to a little improvisation and substitution while trying to stay true to the intention of the recipes.
If I have one standout meal I cooked during this entire weird and wonderful period of lockdown life, it is a riff on a Falastin recipe for chicken meatballs with molokhieh, garlic and coriander. I didn't have molokhieh, (Jerusalem spinach – a vegetable with almost slimy texture, like the texture of okra), nor do I eat garlic but I managed to make a feast that was truly outstanding. In the Falastin recipe the meatballs sit in a vivid green soup-like stew with the aforementioned molokhieh, so I substituted spinach from my garden which I braised in chicken stock. And because that turned a rather unattractive grey colour even though it was delicious, I added peas along with parsley and coriander to make it bright green.
It was the lightness of the meatballs that truly won me over. Mix 50g soaked and squeezed sourdough breadcrumbs with 500g minced chicken in a bowl. Add 2 cloves crushed garlic, 1 teaspoon each of cumin and cardamom, ½ teaspoon allspice and chilli flakes, 1 tablespoon each of chopped coriander, parsley, and mint leaves, zest of a lemon and salt and black pepper. Mix very well, oil your hands with good olive oil and shape the mince into about 16 balls. Heat some more oil in a frying pan, brown the meatballs on all sides and set these aside while you make a sauce.
The sauce can be made in the same pan. Don't rinse it out unless you have a lot of dark residue. Add a couple of cups of chicken stock, lots and lots of chopped spinach or silverbeet and gently stew this with garlic, lemon juice and a little ground cinnamon. When it is cooked and aromatic, season to taste, add the meatballs to reheat with some peas if you wish, and some more chopped herbs. Serve in shallow soup bowls. Delightful!
More lovely Palestinian recipes, stories and photos can be found in Falastin by Sami Tamimi and Tara Wigley (Ebury Press)