29 June 2018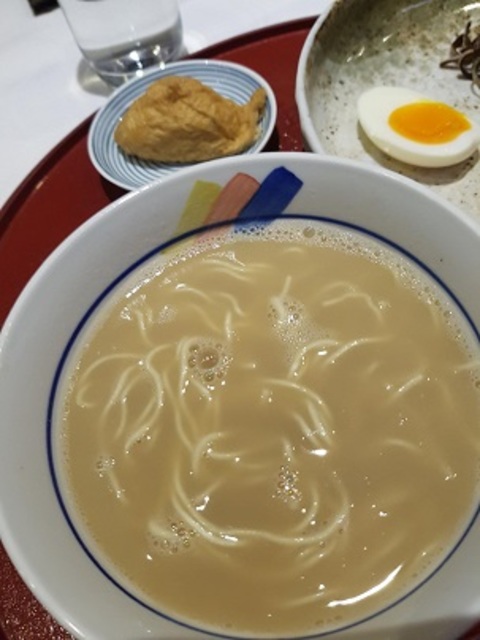 The bowl of ramen pictured here doesn't look very exciting; visually it's lacking all the extra ingredients that are usually piled into the broth along with the noodles to make this favourite Japanese meal really attractive. But I need to tell you that this bowl of intensely rich porky broth was probably the most comforting food I have eaten ever. To the side, on a small plate, half a boiled egg, a couple of organic free-range pork slices, seaweed and chopped spring onions were there to be added. I didn't. I simply slurped the broth and devoured the specially imported Australian noodles.
Ryo Yamazaki, a ramen master, had flown from his hometown of Saga in Japan to cook for this very special meal. Makoto Tokuyama, the chef and part owner of the revered Cocoro in Brown St Ponsonby also hails from Saga and it has always been one of his dreams to cook with his friend. Ryo Yamazaki arrived in Auckland on Saturday and the pork broth for the ramen was started the minute he walked into the restaurant kitchen. It simmered away for three whole days. Five days later that intense taste remains with me.
The evening was superbly orchestrated. All the ingredients that might have been in the ramen broth were served as a series of small tastes. A little slice of wagyu tataki, alongside kurabuto pork slices and Leigh snapper sashimi started the feast, followed by gyoza dumplings, a Marlborough storm clam with wild vegetables, chawan mushi with Hokkaido scallop, and some insanely good chunks of crayfish meat were served before the crescendo of that rich ramen broth. Absolute perfection. And a once in a lifetime opportunity to experience a meal unmatched in the short history of Authentic Japanese dining in Auckland.
And the very next morning Ryo Yamazaki flew out on his return journey home. Such dedication and a privilege for me to be there to experience such mastery.
Print • ∞ Permalink • Comments