8 May 2018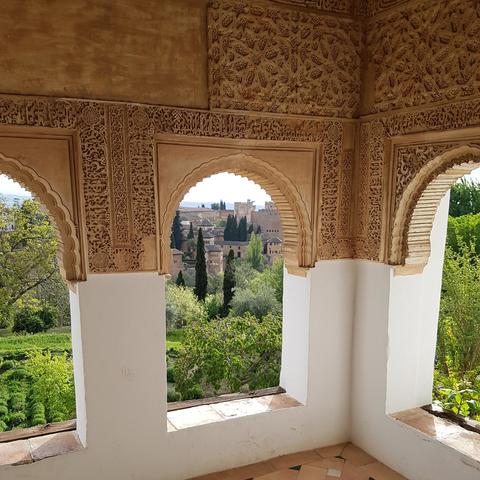 If there's a city in the South of Spain not to be missed it's Granada.
The Alhambra! Magnificent in every way. Don't even think of wandering around without taking a guide, complete with commentary on history, art and gob-smacking treasure after treasure of architecture and design. Here is where every architect worth his salt must visit and so must every traveller. And those gardens - exquisitely tended to by a small army of gardeners. We visited on the 1st of May but my advice is to go about 3 to 4 weeks later in late May for viewing the most incredible planting of standard roses imaginable. We only saw healthy buds sprouting everywhere. Grrr.
Tours take about 3 to 4 hours and there's lots of walking.
At first glance the city is disappointing - endless blocks of nondescript apartment blocks but scratch away and you will find culinary delights and plenty of culture.
We attended a concert - in the Auditorio Manuel de Falla. Piano and violin with contemporary Spanish composition. So contemporary that we were completely baffled but good to experience the direction of Spanish music right now. I am not sure what Chopin would make of it. I did not buy the CD!
Afterward we visited composer Manuel de Falla's house perched high above the city. A tiny place immaculately preserved, right down to his piano, his bed and even the packets of cigarettes and the syringes for his drugs. He'd regularly held court with such folk as Picasso and Dali and some of their sketches and works hang on the walls.
This is a city to eat tapas and if you can find a truly local bar in the old city (such as BodegaCastanera or Bodega La Mancha) you will be given little plates of delicious tapas such as stewed mushrooms with ham or a plate of cheese to go with your drink. Otherwise head with all the city's visitors to Calle Navas and the surrounding streets for wall to wall tapas. The Taberna de Jam is the best bar I have found to enjoy a jamon tasting from Serrano through to Pate Negra jamon.
And if you're after a great neighbourhood bar and restaurant serving fish, you cannot go past Puesto 43. The meal there was so good we returned the next night for another dinner.
Many thanks to the gastronomic expert Pablo Amate for his guidance and generosity.
Print • ∞ Permalink • Comments