19 March 2018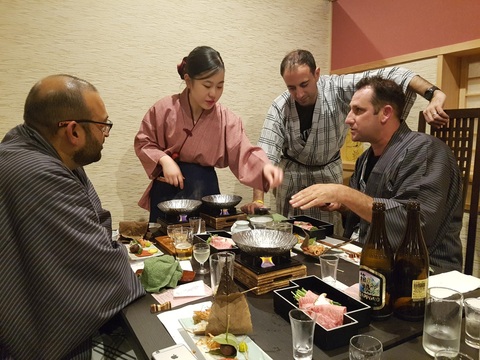 No cuisine on this planet exhibits as much careful design, attention to detail, focus on the seasons and the finest ingredients as Japanese restaurant cuisine.
The chance to explore the food and eat around Tokyo with 12 clever chefs, the 2017 finalists and ambassadors from USA, Australia and New Zealand was not to be missed. There were myriad meals, lots of delicious Ōra King salmon, fun outings, a little exercise (mostly of the karaoke variety) and one hell of a lot of rain. I never stepped out without an umbrella over my head the whole week.
But the ultimate experience for me came at the end of the trip when our bus arrived at Mikawaya Ryokan in the misty mountainous Hakone region, after a lengthy journey from Tokyo via an exceptional visit to an organic soy, miso, tofu and pickle manufacturer Yamaki Jozo in Saitama where we were treated to an outstanding vegetable lunch with everything local.
Here's the thing about Japan. There is so much history and culture, and every single person is highly respectful and embraces that with passion. No-one should ever visit Japan without staying in a ryokan for at least one night for an immersion into this exceptionally unique cultural experience. And like many other traditional ryokans, Mikawaya is at least 130 years old with a long history of genuine hospitality.
On arrival at the entrance, shoes are removed and given to the welcoming staff, generally older women who have trained all their life to look after the ryokan guests. Little slippers are handed out, travellers are greeted with a refreshing drink and the customs, rules and expectations of the ryokan explained. It's then off to the rooms, along dark mysterious corridors, where those slippers are left at the door for guests must never step onto the tatami mats with footwear. Beds are made up nightly with mattresses on the floor.
I'd stayed in ryokans on previous trips to Japan, and so I knew that travellers usually share rooms. A group of six or eight might get a large suite, while four or less would share a smaller one. It was unusual for such a large group as ours (28 people) to arrive and book in together, so obviously and luckily there was not a room large enough for the whole party.
A special feature is the onsen - a hot bath - and every ryokan has large shared baths, while some have rooms with their own private smaller bath. There's ritual and tradition for bathing too, as women and men are separated and no swimsuits or garments are worn. Extensive washing of the body must take place before you plunge into the bath. It is a heaven sent experience and I managed to fit in four hot baths in 36 hours.
Ryokans offer dinner and breakfast (never lunch) as part of the room charge and Mikawaya's cuisine was exceptional - kaiseki dinner of multi courses with Japan's finest fare. Sometimes meals in a ryokan are served in the room, but our party had dinner and breakfast set for us at a very long table in the dining hall. We'd all changed into yukatas, a garment not unlike a cotton bathrobe, topped with a heavy linen jacket that you wear around the ryokan, to the onsen and to dinner. It is comfortable, relaxing and really democratic as everyone looks the same, so you'd never know who usually wears Prada or who buys their gear at Uniqlo!
That dinner was exquisite enough to write a book about. Every course is beautifully plated up for each guest and our menu ran from an introductory hors d'oeuvres platter to a hot pot with the treat of seasonal matsutake mushrooms, a sashimi platter with beautiful sparkling slices of fresh fish, a 'boiled pot' sweet lobster stew, through to a grilled pot – sizzling abalone steaks which were delivered to the table still squirming in their shells and then cooked on individual hot plates with sake and a heartattack sized lump of butter for each.
At that point many would be groaning but not enthusiastic chefs! I learned they can eat and eat and eat. We were only half the way through, as next each of us was given a stunning decorated seasonal platter that contained grilled barracuda, grilled shrimp, boiled chestnuts, persimmon and pumpkin, and a deep fried fish ball. Then came another highlight, some very thin slices of wagyu beef and tongue to be cooked shabu shabu style in steaming broth – rich, tasty and meltingly tender. You know you're almost at the end of a Japanese meal when the rice arrives alongside a little bowl of pickles and some wonderfully comforting miso broth. And the finally a platter each of dessert – seasonal fruits, cake and a chestnut flavoured bavarois. Needless to say, lovely sake flights, large bottles of Japanese beer and a few wines went down with our dinner too.
I am not even going to begin to describe the intricate breakfast next morning. Another sensation of Japanese thought and care. But a word of warning. It can take some fortitude to eat pickles, rice and preserved fish at 8am, but they are delicious. Unlike the Western style breakfast offered that we thought we wanted on our second morning. It included a rather weird 'ham and eggs' accompanied by crunchy green salad, tomato sauce and corn kernels. When in Japan, do as Japan does!
Print • ∞ Permalink • Comments