15 August 2017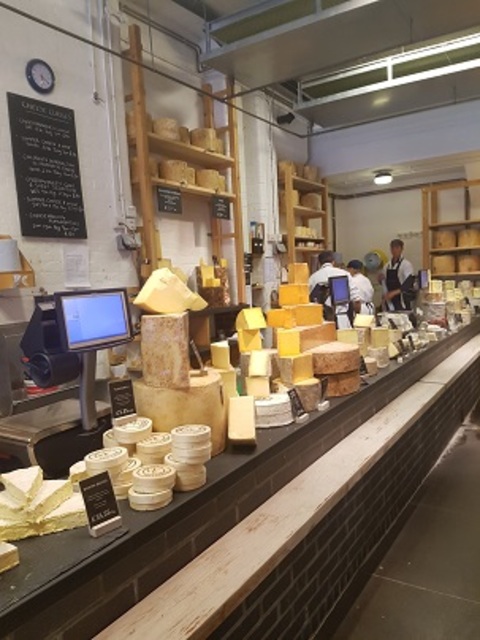 In all my years living and visiting London I tended to stick to areas I knew. My first flat was in Shepherd's Bush, I had lived in West Hampstead and usually stay in hotels around the West End and Soho.
So it was timely when visiting the city that we branched out of our zone. A new hotel, The Ned, a much admired multi-million pound recent renovation of the old Midland Bank in the City of London was recommended so I jumped, thinking it would force me to venture into the East End. So glad I did.
The Ned is on Poultry (love the street names that hangover from the 16th century) and is a hotel of magnificence, filled with luxurious furnishings and action. The ground floor has restaurants and bars to suit all types and can only be described as a scene. Loved the Jewish deli and their matzo ball chicken soup at £3, drank cocktails at the bar with a live jazz performance, and the Sunday brunch in the foyer has to be seen to be believed. In fact you might not need to venture out. But we did.
Spring, Skye Gyngell's restaurant in Somerset House, Westminster has a daily changing, seasonal menu served in a beautifully restored light filled 19th-century drawing room within an old government building on the banks of the Thames. Her food is simple, fresh and clever. Loved her citrusy fish and great wine list.
We headed where I'd never been before to Typing Room, The Town Hall Hotel, Patriot Square, Bethnal Green, for Saturday lunch. The hotel is quirky, and the restaurant in the front serves a fantastic modern menu, which started with superb grainy IPA sourdough and Marmite butter! We ate our way through the degustation; my favourite dish was turbot, peas, green asparagus and lemon verbena.
That evening, the array of mezze at Honey & Smoke delivered to our table was almost overwhelming. This place, as casual as can be, was on my all-time wish list (just as Spring was) for I am a huge admirer of Sarit Packer and Itamar Srulovich's Honey& Co book. The place did not disappoint – fantastic tasty Israeli inspired food and after the mezze, superb meats, tasty octopus and whole fish from the open fire grill. 216 Great Portland St, Fitzrovia, London W1
Everyone visiting Britain needs to have a pub meal so we headed back by bus into the depths of the East End to The Marksman at 254 Hackney Rd, Hoxton/Shoreditch. It was Michelin Pub of the Year and the food was terrific – fresh, cooked to order and a far cry from the usual pub pies and sandwiches. It seemed a bit scruffy in its old brick building but very welcoming and we ate upstairs, away from the bar where it was breezy and interesting with a choice of indoor or the terrace. I loved my brill with samphire.
Finally two tips: Borough Market near London Bridge is a must for foodies. Loads of fresh food stands, intriguing bars and cafés and brilliant shops like the Neals Yard Cheese shop pictured above. Do not miss the opportunity to have some of the best oysters in Britain while you're at the market. And if you want a quick fix while you're trundling around, the fast food at Leon is great. It's mainly takeout but there are always a few seats in most stores which are absolutely everywhere throughout London. I still hanker for their South Indian Fish on Rice with fresh lime which I ate twice during my four days there.
Print • ∞ Permalink • Comments