13 August 2017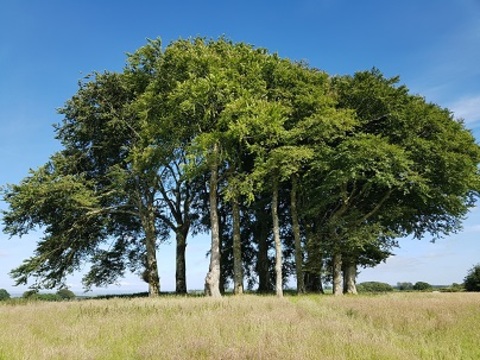 We drove along winding country lanes to find Coombeshead Farm where we were booked to spend a quiet night before heading on to Bristol, Bath and London.
This place is the stuff of dreams once you get there - a comfortable old stone farmhouse surrounded by kitchen gardens, farm land with chickens and grazing sheep and an award-winning Millenium Walk that weaves its way through a copse of very English woods and surrounding meadows. Tucked into the northern corner of Cornwall, not far from Launceston, it is owned by Tom Adams, (a London chef known for his barbecue) and April Bloomfield (of New York's Spotted Pig fame), and is run as a boutique country hotel where up to five couples are hosted each night. Dinner and breakfast are included in for a very reasonable 160 to 180 GBP per night per couple.
The atmosphere is welcoming and easy. Relaxing before dinner at an outdoor table over a gin and tonic was a cool way to meet the other guests. Such is the reputation of this place after only a year in business that most of the others were chefs (and partners) or industry insiders. The food supervised by Tom Adams and his partner Lottie is based on the modern approach of curing, fermentation and outdoor cooking over fire. All around the kitchen and dining room, various ferments were evident – lovely fruits, pickled, juices and more doing their thing for future diners.
Outdoors that evening we were served some pre-dinner exceptional ham and lardo handmade on the farm, bread crisps with thyme, honey and whey, and one of the simplest, most effective starters in the history of cooking – two fresh crisp lettuce leaves, plucked from the garden mere minutes before being served, dusted with dried miso powder. Bold!
Moving indoors to the communal dinner table we munched on through Adam's exciting menu while we chatted with our companions about the wonderful world of food. Truly exceptional sourdough – you can enrol in bread workshops at the Farm – was accompanied by a parade of equally exceptional vegetables such as peas and cream, beetroot, kefir and parsnip, artichoke and sunflower, turnips and blue cheese and some very fine duck with gooseberry and sorrel. Our main course was a small tranche tender beef and to finish we had a dessert of nettle curds with rhubarb and pineapple weed. A wide selection of fermented juices and natural wines were offered, and thankfully, some more conventional wines too.
Next morning's breakfast table was set with fresh strawberries from the garden, honey from the hives, jams from the pantry and yet more of that wonderful bread made in the kitchen. There were also house-made sausage and rillettes, and some fabulous pastries, straight from the oven.
Be warned, book ages ahead. I had an email from Coombeshead Farm this week, advising all Saturdays for 2017 are booked out but there was availability for five nights only until October!
If you are in the area, call, as you never know, they just might fit you in for dinner. Coombeshead Farm, Lewannick, Launceston, Cornwall PL15 7QQ
Print • ∞ Permalink • Comments