2 June 2012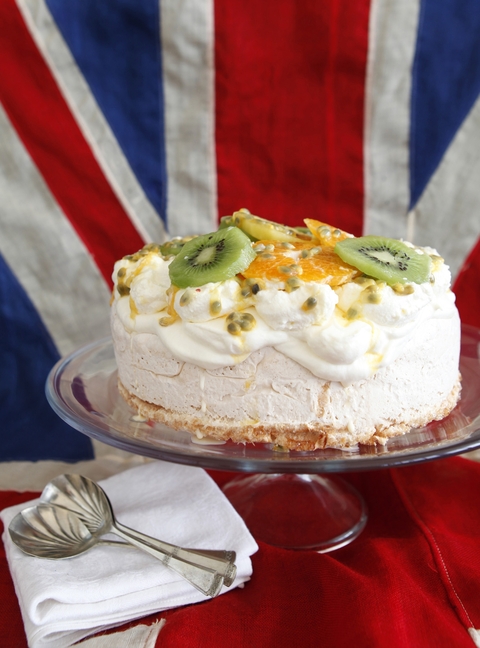 This is my grandmother's recipe for Pavlova with fruit and cream. Queen Salote of Tonga asked my Nana Laura to bake it for the luncheon in honour of the visit to Tonga of the young Queen Elizabeth in 1953.
4 egg whites
Pinch of salt
1 cup sugar
1 teaspoon cornflour
1 vanilla pod
1 teaspoon malt vinegar
For decoration:
300mls cream
2 kiwifruit, sliced
1 mandarin, sliced
2 passion fruit
Pre heat the oven to 180°C. Prepare the baking tray by drawing a 22cm circle on a sheet of baking paper. Cut a long strip of paper about 10cm wide and form a paper case that will fit around the circle. Fix the ends together with a pin or paper clip to make a paper case. Beat the egg whites with the salt until stiff peaks form. Add the sugar, a third at a time and continue to whisk until the mixture is shiny and very thick. Gently sprinkle in the cornflour, the seeds scraped from the vanilla pod and the vinegar. Mix gently. Place the mixture into the paper case and spread it out evenly, smoothing the top. Put the pavlova into the pre-heated oven and immediately reduce the temperature to 140°C. Cook slowlyfor about an hour or more until the interior sets. When cool decorate with cream and fruit. Whip the cream to firm peaks and spread over the pavlova with a palette knife. You can pipe rosettes around the edge for extra effect. Scatter the fruit on top of this. Serves 8.
Recipe by Lauraine Jacobs, Photo by Elizabeth Clarkson, Stylist Kate Arbuthnot
Print • ∞ Permalink • Comments